Food for the Soul: De Young Part 2 – Monet
"Everyone discusses my art and pretends to understand, as if it were necessary to understand, when it is simply necessary to love." Claude Monet
By Nina Heyn – Your Culture Scout
San Francisco's De Young Museum is on a tearing streak as far as the milestone French artists are concerned. After Gauguin: A Spiritual Journey, there is even a more enticing exhibition that has just opened there: Monet: The Late Years.
This is also a loan exhibition, drawing from Musée Marmottan in Paris that is the largest depository of Monet's art, mostly donated by his son, Michel Monet and other collectors. Other than this impressive selection from Marmottan, there is a beautifully curated collection of paintings from the Giverny period that are ensconced in American museums in various states. Loan exhibitions are particularly attractive because they allow access to art that would normally require an impossible feat of flitting around the world to check out various paintings.
It is an exhibition so easy to enjoy. You can simply get seduced by these incredibly satisfying large canvases of wisterias and water lilies in an amazing array of shades of blue, purple, pink and green. The effect is as soothing and exhilarating as it was when they were first exhibited at the beginning of the 20th century.
Modern museum patrons can relate to large canvases covered with paint in semi-abstract patterns, or large paintings of garden flowers with no other elements of the landscape, sky or earth, visible. We are used to such compositions. It wasn't always so and Monet was one of pioneers of this approach to nature painting with perhaps Georgia O'Keefe on a different part of the spectrum and a dozen years later. When he exhibited 48 of his large water lily canvases in 1909, both critics and the public were bewildered. Aside from large formal portraits, and biblical or historical scenes, paintings tended to be on a less massive scale, certainly of anything that featured just some flowers on a pond. And if you painted nature, there was usually some sky or earth or some other indication where these plants were placed. Monet's grand-scale water lilies were nothing like that. As much as could be a shock to the pre-WWI public, they soon became a source of wonder and they continued to enchant and inspire, all the way to American abstract expressionists in the 1940's.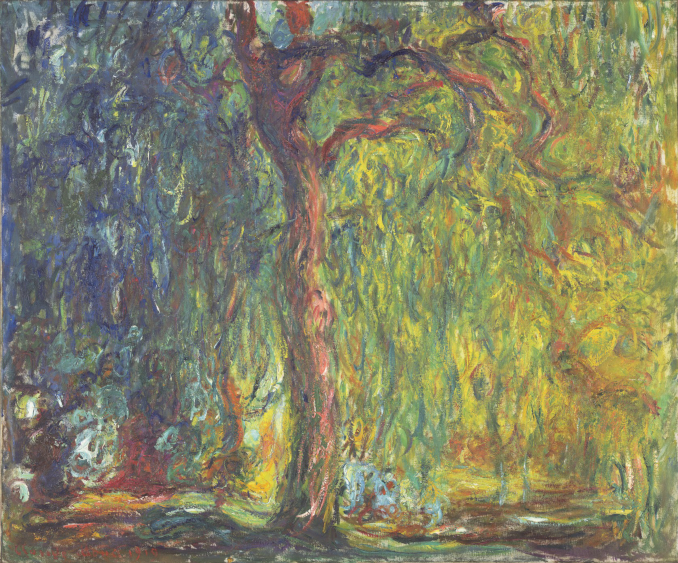 In what must have been a major organizational feat, de Young also provided a feast for the eyes in a form a series of Weeping Willow paintings. Monet painted many "portraits" of the same tree over the last 12 years of his life but in time these canvases got dispersed all over the world. The stars of willow series are two 1918 paintings – one from Kimbell Art Museum in Fort Worth, Texas (Weeping Willow 1918-1919) and another brought from Columbus Art Museum, Ohio (Weeping Willow 1918). They are both luminous with exquisite greens and complex shapes, and are the best in the series of half a dozen presented in the exhibition. This is "late Monet" – a master of color choice and application (he used matte techniques for his iris studies but oil-rich paint for willows), an artist sure of his unorthodox, "in-your-face" close-ups, and a post-Impressionist who moved on towards 20th century freedom of brushstrokes (all the way up to showing parts of naked canvas) and freedom of composition (all the way to showing a detail of a garden pond in a canvas the size of a horse). As freely as each stroke seems to float in the painting, there is nothing accidental in the artist's technique. For example, in Weeping Willow 1918-1919, Monet would mix 9 different layers of pink and purple in just one spot.
If Monet lived at any time after 1950, his decade-long struggle with losing eyesight to cataracts would not be part of his biography. As it was, he started losing sight around 1915, suffering through a series of not very successful surgeries. Despite various artist tricks (arranging paints in a strict order on a palette, painting under umbrellas and hats to reduce glare, sunglasses etc.) some of his compositions suffered through his inability to see the colors and shapes the way he needed to. Monet burned a lot of canvases he deemed failed but there are some that evidence his changing visual range. They have this strange red-and-yellow palette and fuzzy, twisted shapes that feel closer to may be a van Gogh's vision than Monet's.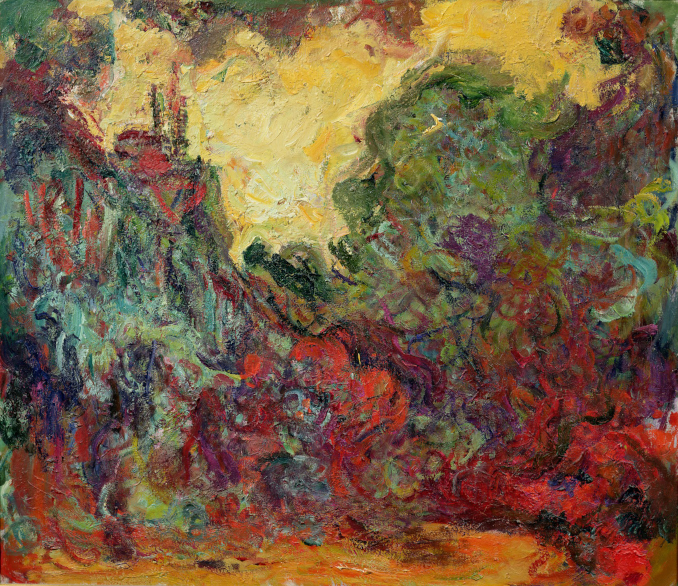 We have gone through so many decades of abstract art that these pictures can look to a contemporary viewer as interesting and alluring as any Impressionist ones, but at the time they have been a shock to Monet's dealers and art critics who were aware of his struggle to preserve his vision. It is fascinating to see the same Japanese bridge or a weeping willow in a "regular" color version and then the strange color and brushstroke compositions of his poor vision period. It is as if the courage of ailing Monet who insisted on creating despite his crippling health is matched by the courage of the museums to display all of his art, regardless of how it compares with his highlights.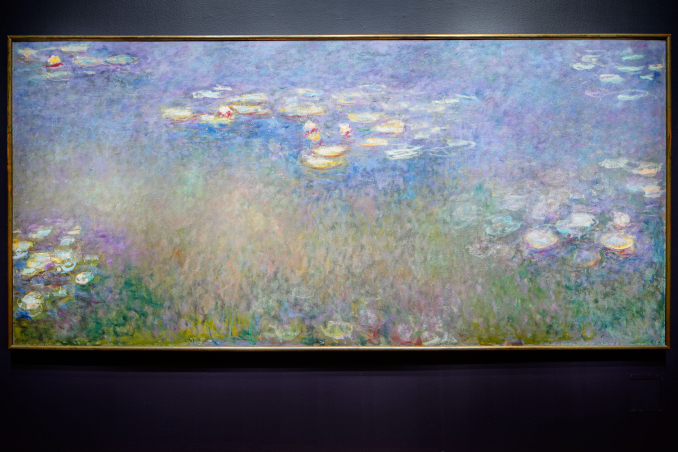 The exhibition is certainly rich in highlights – there are those perennially loved Japanese bridges, scores of water lily compositions in all color and light variations, and an earlier period delights of the misty and delicate Morning on Seine from 1896 and Water Lilies, Reflections of Tall Grasses from 1897. You can just stare at them forever.
Check It Out!