Food for the Soul – The Joy of Color
"If you pay attention, nothing in nature stays the same for a single moment: You can't be bored of nature, can you? Well, sometimes I'll steal something from Van Gogh. I mean I do. Good artists don't borrow, they steal." David Hockney
By Nina Heyn- Your Culture Scout
There are two amazing facts about Vincent van Gogh. One is that his entire artistic output of 2100 works including 860 oil paintings was created within ten years (1880 -1890) as he only started painting after unsuccessfully trying jobs as an arts dealer in his family business and a village preacher. The majority of colorful compositions that we recognize as his typical art, have been created in the last two years of his life when he moved to the south of France. The other biographical fact is that he only managed to sell one painting during his lifetime. Over a hundred years later, when crowds gather in front any of his canvases, it is hard to understand how these luminous, unforgettable and colorful compositions would not find favor among any lover of art. This point is especially brought home in Amsterdam at The Van Gogh Museum that houses the largest collection of his art in the world. For anyone who is a van Gogh fan, this a visual feast. There is a hall that displays only his various self-portraits – some of them in glass cases so that you can see the backs which sometimes feature a different picture as he was re-using canvases. There is another space devoted to this fascination with Japanese woodcuts that influenced so many things in his style: bold planes of flat surfaces, tilting perspectives, dark contouring, and positioning of trees in a middle of a landscape. Another room houses his amazing flower compositions – from the much-abused-in-advertising sunflowers (he painted five versions in Arles, out of which the most accomplished one is in the museum), to a purple spill of irises, and an equally famous picture of a tree blossom on turquoise background that he painted for his namesake nephew to decorate the family bedroom.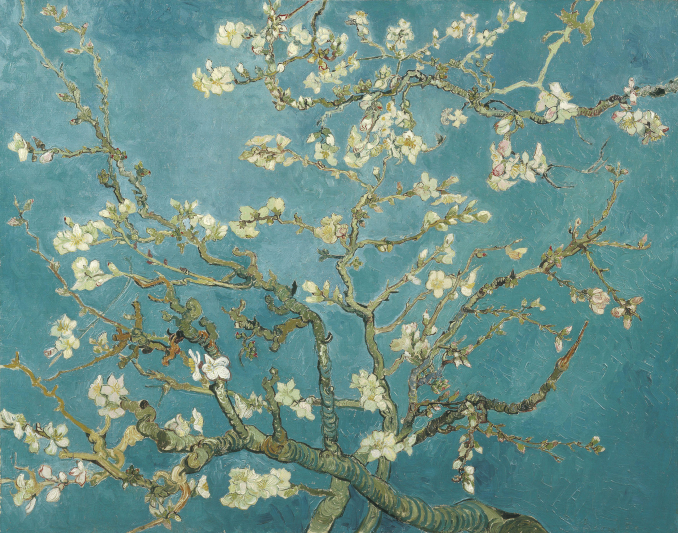 Vincent van Gogh. Almond blossom. 1890. Van Gogh Museum, Amsterdam. Van Gogh Foundation. Photo credit: Wikimedia Commons
There is one van Gogh fan who can do better than just admire his paintings. David Hockney (in my completely biased opinion the greatest painter alive), has been so inspired by van Gogh's approach to landscape and color that the artwork that he created in northern England in the 2000's has been mounted in Amsterdam in an exhibition called Hockney-van Gogh: The Joy of Nature, side by side with van Gogh's art. It is a celebration of joy of color juxtapositions. Both van Gogh and Hockney boldly disregard "correct" color values that we associate with objects of nature. The same way that a van Gogh sky can be swirls of yellow and faces can be green and blue; Hockney's tree trunks are acrylic magenta and village cottages can be entirely crimson and pink. Both artists have a constant loving relationship with color that is treated as subject in a painting not just a way to render image.
It is unfair to both artists to compare them directly when the times they lived in and their biographies are so different. Van Gogh created for only a few years to die prematurely at 37, while Hockney is still going full steam in his 80's. Looking at van Gogh's art next to Hockney we are also struck by the change in technology. Van Gogh's oils are muted because paints he used were mineral mixtures with barely an advent of chemical ingredients. No doubt if he had access to contemporary pigments his paintings would vibrate with hue as much as Hockney's art.
Hockney's art is an extravaganza of color and deceptively simple shapes. Hockney uses all means necessary – he paints with oils but also with acrylics that allow his characteristic vibrant, neon palette, and he uses photography, video and iPad drawings (again with a digital palette of hundreds of vivid hues) to create his multiple canvases or large size digital print pictures. Van Gogh would not do well with photography that was available in his time – blurry black and white images are not compatible with his visions of swirling balls of color or his starry nights. Perhaps one of the reasons we admire him because it seems that the way he painted shapes and colors is how he really saw the world.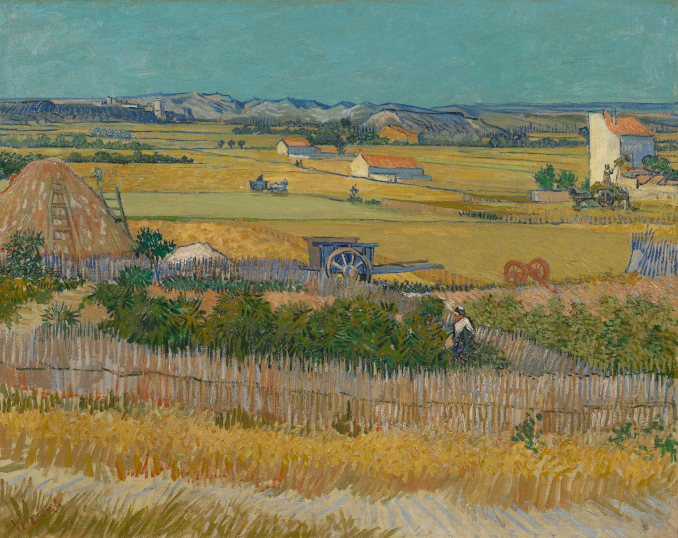 Vincent van Gogh. The Harvest.1888. Van Gogh Museum, Amsterdam. Van Gogh Foundation. Displayed at the "The Joy of Nature" exhibition 2019
Technology aside, it is indeed fun to compare the two artists side by side in this exhibition. Van Gogh was obviously proud of his 1888 canvas entitled The Harvest since wrote himself about it: "The (…) canvas thoroughly beats all the others." Hockney displays his own homage to this painting in a picture entitled Woldgate Vista which has a similar flattened perspective of a large flat plane of undulating wheat fields with an expanse of sky above it and a similar rendering of wheat stalks as sticks of color that look best from a distance. You almost think of Rembrandt's adage that a picture should be hung "in a bright light and in such a manner that it can be viewed from a distance. It will then sparkle at its best."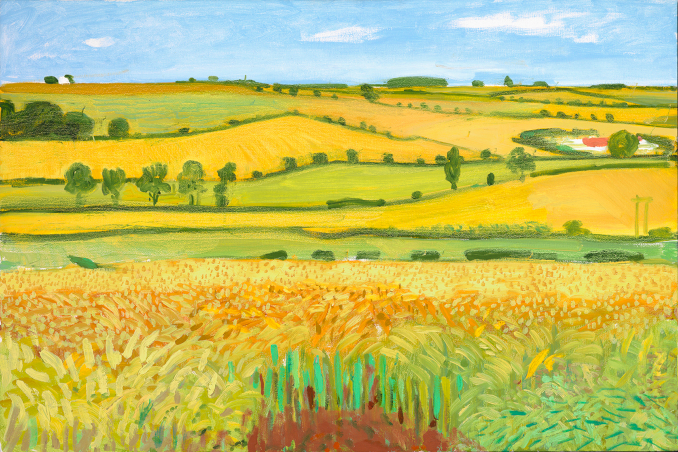 David Hockney, 'Woldgate Vista, 27 July 2005', Oil on canvas, 24 x 36", © David Hockney, Photo Credit: Richard Schmidt. Displayed at the "The Joy of Nature" exhibition 2019
For decades when Hockney lived in perennially sunny Los Angeles, he experienced no seasons. Upon returning to England, for the first time since his student works in 1950's, he started painting landscapes of his native land. The Yorkshire landscapes were painted as it was he wanted to make up for that loss of seasons and the lush greenery of Europe, so absent when you drive around Los Angeles in a particularly dry year. The Joy of Nature exhibition in Amsterdam gives so many wonderful examples of this phase in Hockney's art which he been exploring with both paints and an iPad. Saying new things is not easy when coming to the world of art already crowded with color explorations not only by van Gogh but also Monet, the Fauvists, Matisse, the primitivists, Yves Klein, Takahashi Murakami and the list goes on. Hockney is "beating" them all with the way he acknowledges, borrows and gets inspired by artists before him, all the while creating his own, distinctive visions. He is so versatile. He can make paintings tell stories like in his seminal A Bigger Splash (1967), he can do amazing psychological portraits, and he render nature in his most unique, "color-crazy" way.
It's hard to sit in front of a modern work of art – often it either assaults your senses or it is a one-note statement ("war is bad" or "human condition is difficult."). But you can sit for hours in front of a Hockney picture admiring the way he draws, the way he tells a story, and the way he assigns arbitrary colors to give you purple tree trunks and acid green branches that somehow make absolute sense. You can spot a Hockney a mile long and love it at any distance.
The Van Gogh Museum in Amsterdam is a must visit anytime of the year but if you happen to catch The Joy of Nature exhibition this spring, you would get a double feast for the eyes and a rare perfect comparison of two painters whose love of nature and color is a gift that keeps on giving to all of us.
Check It Out!


David Hockney, 'The Arrival of Spring in Woldgate, East Yorkshire in 2011 (twenty eleven)', Oil on 32 canvases (36 x 48″ each), 144 x 384″ overall, © David Hockney, Photo Credit: Richard Schmidt, Centre Pompidou, Paris. Musée national d'art moderne – Centre de création industrielle. Displayed at the "The Joy of Nature" exhibition 2019