Food for the Soul: Berthe Morisot – Women Artists series 1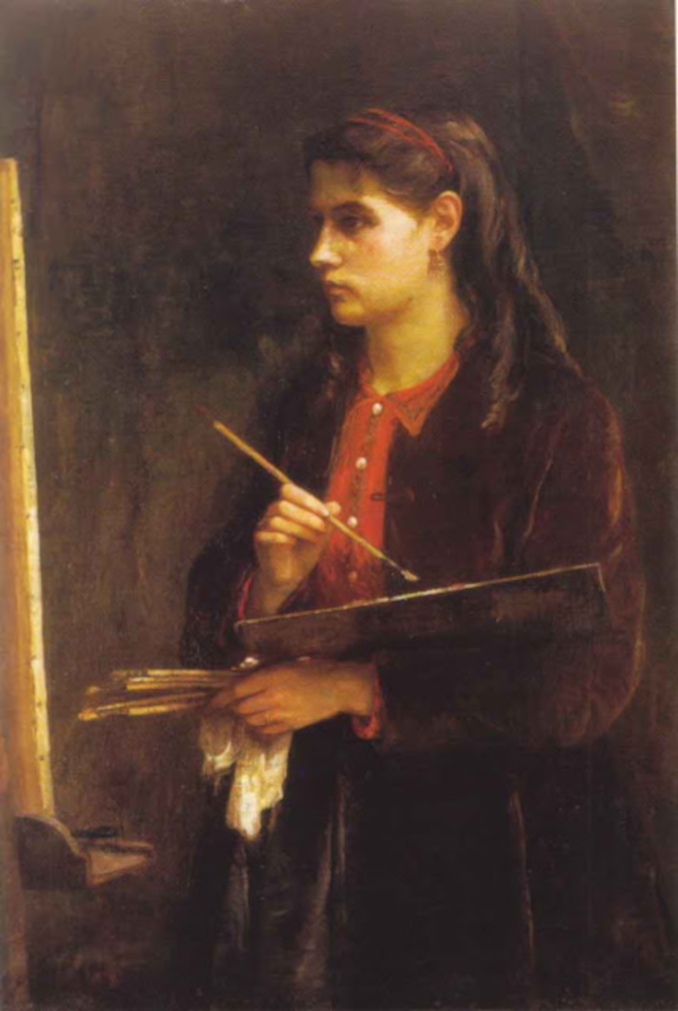 Edma Morisot. Portrait of Berthe Morisot, 1865. Oil on canvas. Private collection, Paris. Photo: Wikimedia Commons
"I do not think any man would ever treat a woman as his equal, and it is all I ask because I know my worth." ~ Berthe Morisot in her notebook
By Nina Heyn — Your Culture Scout
As much or as little as the #MeToo movement has achieved in improving women's lives in the world of male-dominated professions, there is indeed now a larger interest in art museum exhibitions that focus on women artists. There have been recent retrospectives of Cindy Sherman at Broad Museum in Los Angeles, and another one in Paris. Also in Paris, the Musée d'Orsay dedicated a large show in 2019 to a female artist who lived in times even less tolerant of women who wanted to be treated as seriously as men. Berthe Morisot lived in the 19th century, when well-bred young ladies were expected to sing, play some piano, and possibly dabble at watercolors, but with no one expecting them to actually exhibit at professional competitions. Berthe had other ideas.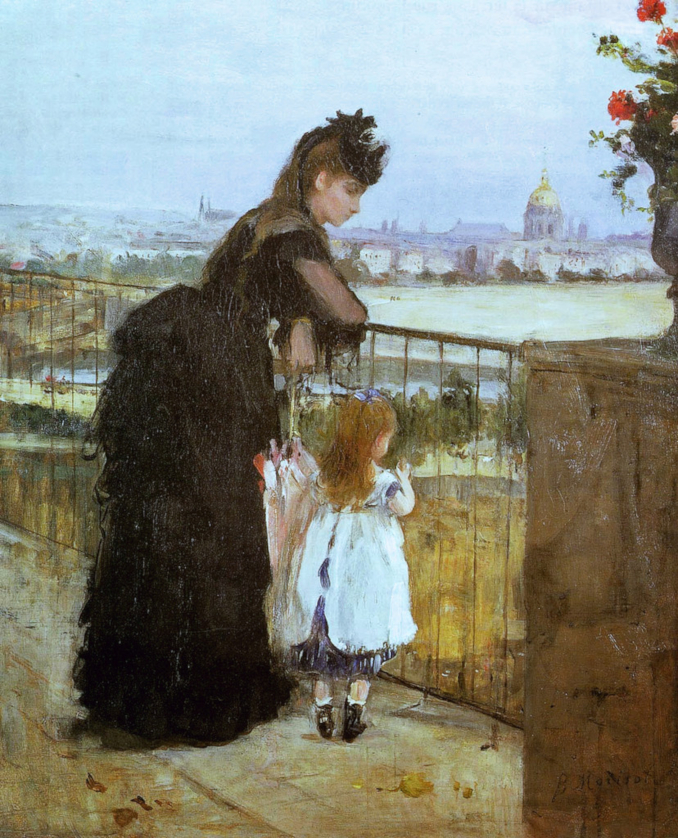 Berthe Morisot. Woman and Child on a Balcony, 1872. Oil on canvas. Private collection, Switzerland. Photo: Wikimedia Commons
It's not that she was not appreciated. Her parents supported both her art studies and her financial needs (she did not marry until she was 33—an extremely advanced marrying age in those days), and Berthe herself was often praised and encouraged by her artistic friends. Her artistic anguish was more about the fact that she was not appreciated enough—not treated as a "serious" artist the equal of all her male colleagues. In fact, when she started submitting her paintings to the Salon—the ultimate platform to be judged as an artist—her own circle of artists and critics initially dissuaded her, including her friend, mentor, and celebrated painter Edouard Manet, who was to become her future brother-in-law.
Exhibitions like this one at the Musée d'Orsay seek to restore the balance of recognition, albeit over 100 years too late for Berthe herself but certainly in time for us to see the bulk of her artistic output. Moreover, since this exhibition was a joint effort of several museums in Canada, the U.S., and France as well as sourced from private collections, the displays could be comprehensively arranged by all themes and periods in Morisot's life.
Berthe, together with her very talented sister Edma, was already placed inside an affluent and artistic milieu when the sisters started in 1860 their serious art studies with no less than Camille Corot, a leading proponent of realistic painting. Four years later, Berthe started exhibiting at the annual exhibitions of the Salon. Edma's portrait of Berthe is sufficient proof of her own talent, but Edma eventually met with the fate of so many talented women of the era: as soon as she got married and had children, she stopped painting.
Berthe was praised, albeit somewhat condescendingly—"The entry into competition of a young girl from a distinguished background is both a salutary example and a singular encouragement"—but her ambition to be an independent and innovative artist led her away from the academic style to become a co-founder of the Impressionist circle, together with Monet, Pissarro, Cézanne, and Sisley. She exhibited with them at the first famous 1874 exhibition (the one that gave name to the movement as "Impressionism"), and she participated in seven others.
Both Morisot's contemporary artist friends and subsequent art historians and critics have paid much attention to her use of color and her own "poetic" style. French art critic Philippe Burty wrote in 1877: "Here is a delicate colorist who succeeds in making everything cohere into an overall harmony of shades of white which is difficult to orchestrate without lapsing into sentimentality."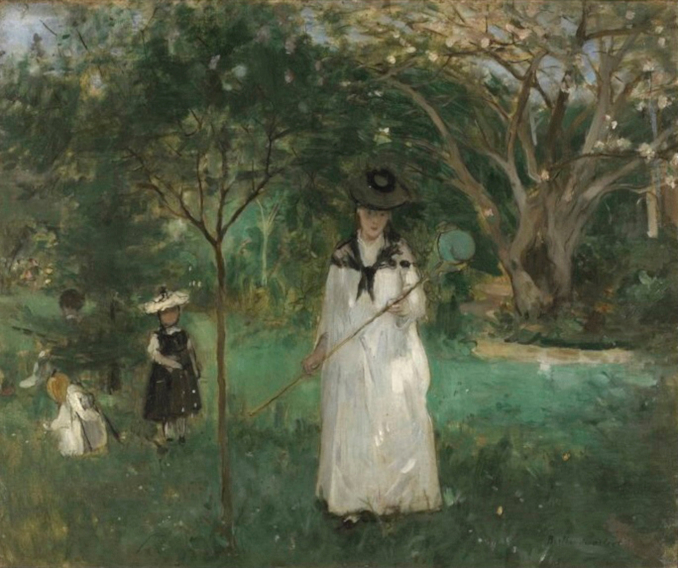 Berthe Morisot. Chasing Butterflies / La Chasse aux papillons, 1874. Oil on canvas. Musée d'Orsay. Photo: Wikimedia Commons
The Orsay exhibition gives us an insight into all that—the amazing subtlety of shades—a truly Impressionist way to show movement of grass or leaves and the interplay of light and shadow captured at different times in the same open-air location. However, this is not what makes Morisot stand apart. They say that in art, the most important thing is not the subject matter but the way something is presented. In the case of Morisot, this is not entirely true. What is important is precisely what she shows. She was a quiet observer of the lives of the women and children around her, in situations where men would not have been present or observing. At the first Impressionist exhibition in 1874 she exhibited an exquisite painting called Hide and Seek (Cache-cache, 1873), capturing the sight of a mother playing with her little daughter around a small tree. The mother—dressed in a hat, a jacket, and with a parasol—cannot really "hide" behind a few leaves, but this does not matter to the little one; it's the game of pretend that they both enjoy.
Another and better-known Morisot picture, called Chasing Butterflies (La Chasse aux papillons, 1874), has a mother and two tots wandering in a garden with a little butterfly net. Again, it is a fleeting moment in a game of pretend with little kids—something that so many mothers would have done over the millennia but that most fathers would not witness.
One of the most beautiful and insightful paintings at the exhibition is called Woman and Child on a Balcony—the model is Edma with her little girl. This is not a posed portrait—they are looking out at the Parisian Champs de Mars, observing something below them. The little girl's left foot is standing a bit crooked, the way kids tend to fidget a little. Berthe would have spent hours looking at her nieces and then her own daughter, so she knew how kids really look and behave.
Morisot also painted her daughter's nanny and other servants—not as allegorical figures, nor as metaphors of life's hardships, nor even as just studies of color or light. They are just women at work: picking fruit, doing dishes in the kitchen. These are very feminine insights. Morisot's colleagues tackled sunsets and cathedrals, ballet dancers and card players, but they did not spend too much time noticing women who did dishes or tended to kids.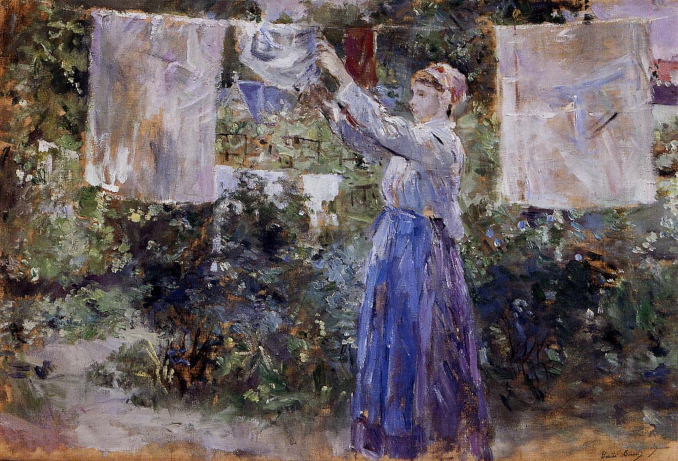 Berthe Morisot. Woman Hanging Out the Washing / La Blanchisseuse, 1881. Oil on canvas. Ny Carlsberg Glyptotek, Copenhagen. Photo: Wikimedia Commons
Impressionists fight with academicians is long gone. Their canvases are now world famous for their use of light and color and the way they captured life scenes. What is still left from that period to be recognized a bit more is the art of someone like Berthe Morisot. She had as much technical talent as her male colleagues, but she had a different way of looking at her subjects precisely because she lived in a world closed to men—that of motherhood, running a household, and providing child care.
This exhibition was a joint effort of the Musée National des Beaux-Arts du Québec, the Barnes Foundation in Philadelphia, the Dallas Museum of Art, and the Musée d'Orsay and L'Orangerie in Paris.