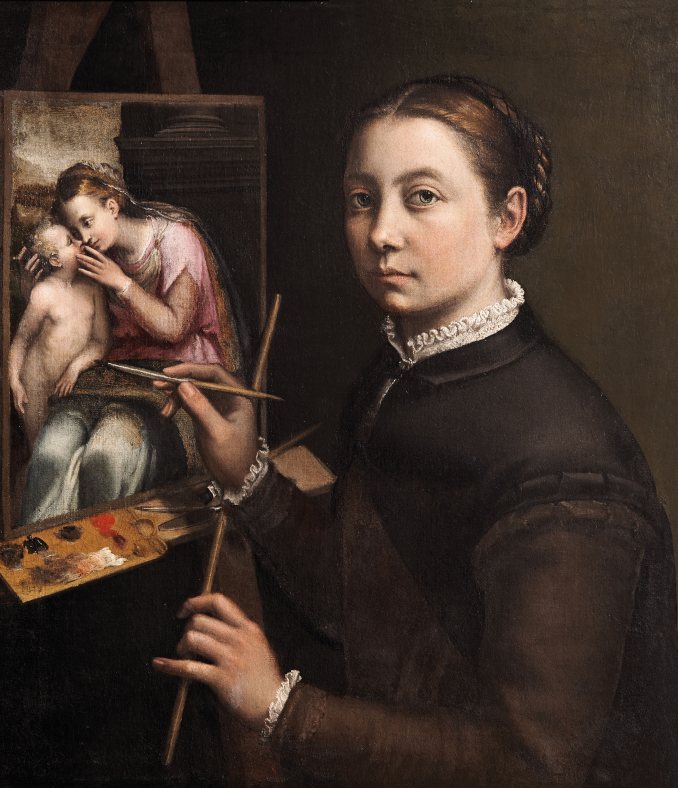 Sofonisba Anguissola. Self-Portrait at the Easel, 1556-57. Oil on canvas. Muzeum-Zamek. Łańcut, Poland. Photo credit: Courtesy of the © Prado National Museum, Madrid, Spain.
"Her paintings were celebrated for their calm and gentle style, and for the particularity that she was a woman, and had risen above the usual course of those of her sex, for whom wool and linen are some materials appropriate for their finger and hands." ~ Father Andrés Ximenez writing about Lavinia Fontana in 1764
By Nina Heyn — Your Culture Scout
Anguissola and Fontana were two talented 16th-century portraitists who are almost completely unknown outside art history books. Why? Mainly because they were women. We are continuing our celebration of women painters who, with a few exceptions, have been less recognized by museums and art history than their male peers. The trend is changing with more museums mounting exhibitions that specifically celebrate art created by women. This time, a major reappraisal of female contributions to art is a gift of the Prado National Museum. The Prado is in the midst of celebrating its 200th anniversary, and an impressive loan exhibition entitled A Tale of Two Women Painters is the icing on the cake in one of the most venerated art collections in Europe. It is encouraging that the home of Goya, El Greco, and Velázquez has created such a delightful showcase of two female artists who are finally receiving their due recognition in the Old Masters' club.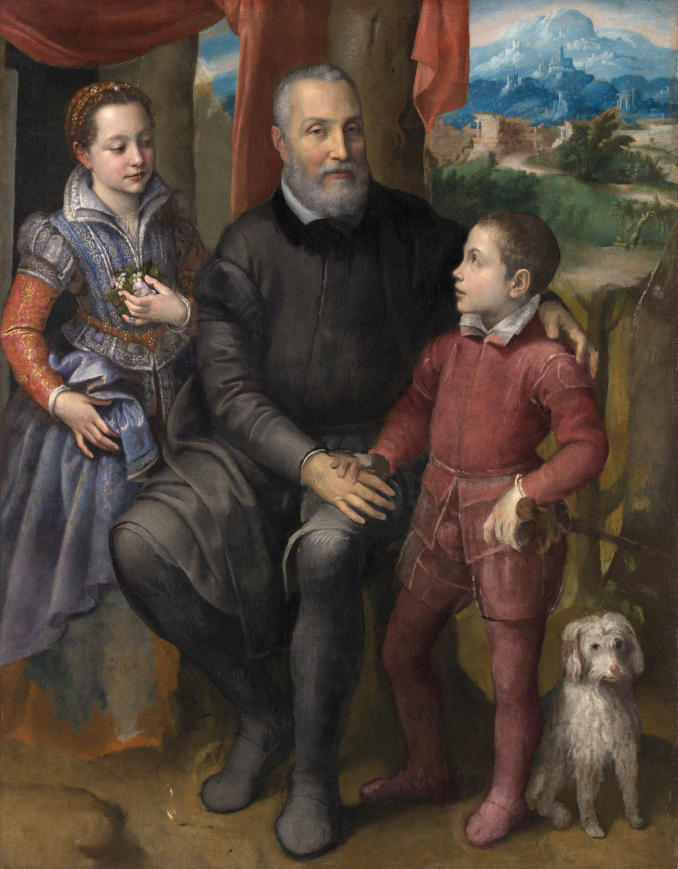 Sofonisba Anguissola. Family Portrait, c. 1558. Oil on canvas. Niva – The Nivaagaard Collection, Denmark. Photo credit: Courtesy of the © Prado National Museum, Madrid, Spain
During her lifetime, Sofonisba Anguissola (c. 1532-1625) was famous and much praised. Her father was a socially ambitious but perennially cash-strapped minor noble in 16th-century Italy. He recognized early on that Sofonisba's and her family's ticket to prosperity was through her gift of art. He first provided her with art teachers, then sent her drawings to Michelangelo, and when she attained a solid reputation as a portraitist, he helped her to secure a position as a lady-in-waiting at the court of the Spanish king Philip II. Anguissola's art training was appropriate for a lady's education of the time, but as she surpassed any amateur efforts, she became a pioneer—a professional female artist getting formal commissions. She is the only woman painter mentioned by Vasari in his famous The Lives of the Most Excellent Painters, Sculptors and Architects—the first biographical art book that, to this day, is an ultimate source of information on Italian Renaissance painters.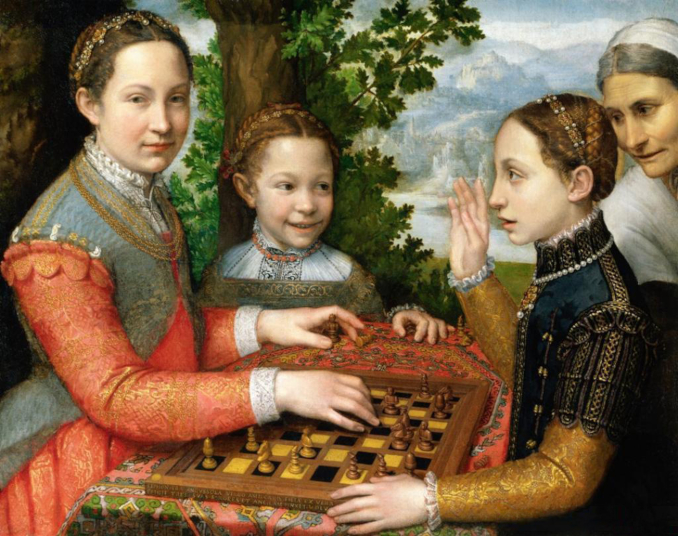 Sofonisba Anguissola. The Chess Game, 1555. Oil on canvas. Poznań – The Raczyński Foundation. National Museum in Poznań, Poland. Photo credit: Wikimedia Commons, public domain.
During her youth in Italy, Anguissola painted herself and her family—the subjects most accessible for a lady at home—but in a way that was far from conventional. One of the highlights of the Prado exhibition is a picture called The Chess Game, loaned from a castle in Poland. This is one of the most original family portraits ever done. We see three Anguissola sisters (Lucia, Europa, and Minerva) playing and laughing at a game while supervised by a nanny. Even though such young girls would surely have spent a lot of time playing games and talking, this is not a realistic documentation of family life. Anguissola dressed her sitters in elaborate silks, pearls, and gold thread, painted a classic if fictitious landscape suitable for a formal court portrait, and put the chessboard on a priceless Persian carpet. She created a carefully imagined and constructed narrative told in splendid visuals. This picture as well as her other family portraits display an imagination and color that stand out from the stiff conventions of Renaissance portraits.
Being a painter, even one as accomplished and famed as young Sofonisba, was not a life goal for a lady, so the next "career step" was to secure her a post at the royal court of Spain. There, she became a painting teacher for Queen Isabel de Valois, and as a member of the royal entourage she was rewarded in jewelry and costly fabrics. However, she was not considered a court painter, despite numerous royal family portraits she executed during that time, and her pictures from that period are not signed. This is probably one of the reasons why her contributions to world art and Spanish portraiture have been so neglected for centuries. As soon as Anguissola passed away in Italy, at the impressive age of 94, her fame and respect started to fade away all the way to obscurity for a good 300 years.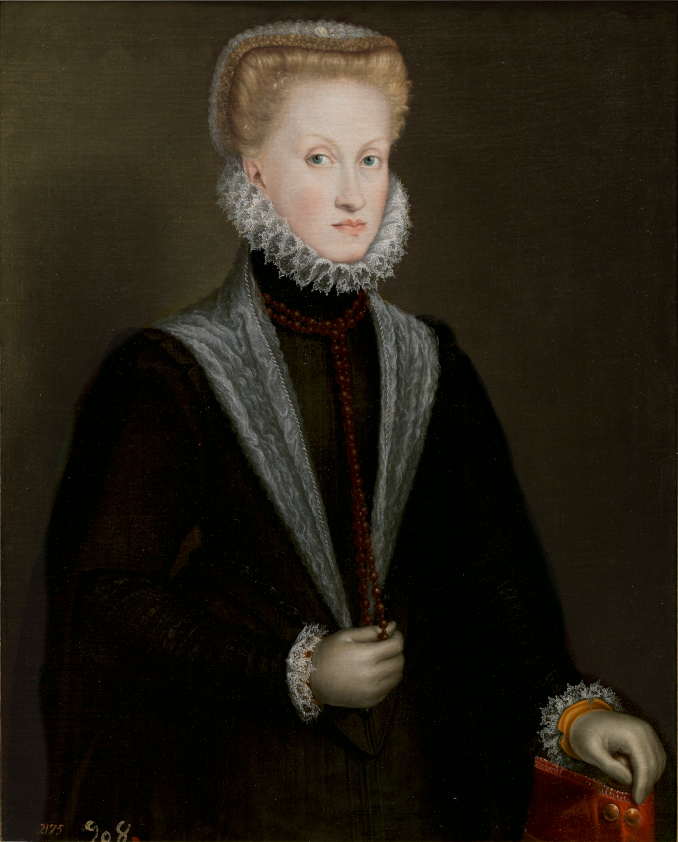 Sofonisba Anguissola. Queen Anne of Austria, c. 1573. Oil on canvas. Madrid- Museo Nacional del Prado. Photo credit: Courtesy of the © Prado National Museum, Madrid, Spain
Her oblivion as an artist became total when her Spanish court paintings became ascribed to other artists, all male of course. As late as in 1948, the official portraits of Spanish royalty—Philip II, Isabel de Valois, and Anne of Austria—were still attributed to the Spanish male painter Juan Pantoja de la Cruz (1533-1608). There was even a debate that they might be copies of paintings by the official court portraitist of the time, Alonso Sánchez Coello (1531-1588). Anguissola's name did not even enter into critical consideration for several centuries. It took a woman art historian, Maria Kusche, to reevaluate this assertion in the second part of the 20th century. In fact, there are still several important court paintings which have now been presented at the Prado exhibition as Anguissola's possible attribution.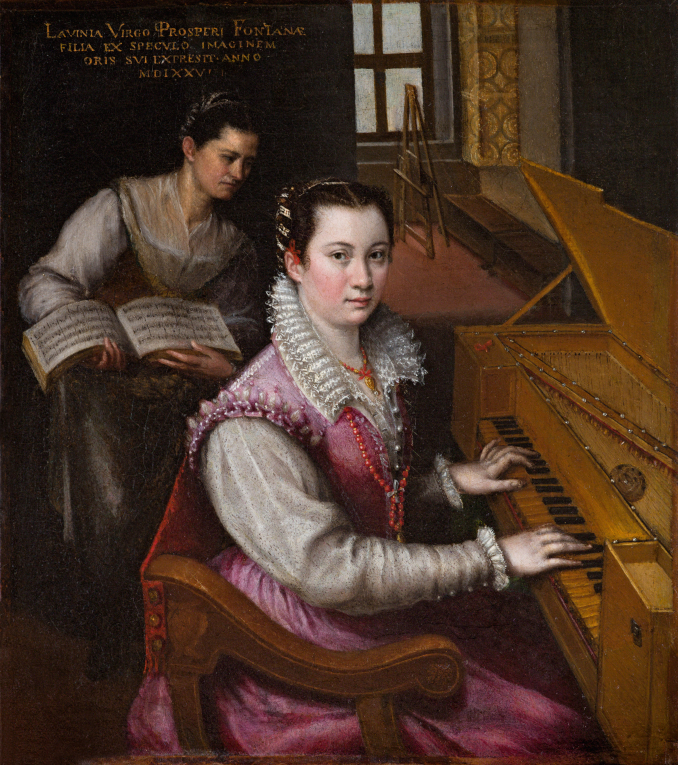 Lavinia Fontana. Self-Portrait at the Spinet, 1577. Oil on canvas. Rome – Accademia Nazionale di San Luca. Photo credit: Courtesy of © Prado National Museum, Madrid, Spain
The exhibition not only presents over 60 works meticulously gathered from collections and museums from around Europe and the U.S., but it also juxtaposes Anguissola's lifetime output with that of her artistic follower: Lavinia Fontana (1552-1614). She was another Italian woman whose sheer talent allowed her the position of a professional artist and whose works were sought after by nobles, kings, and popes. One of her earliest paintings from 1577, Self-Portrait at the Spinet, is a direct reference to Anguissola's very similar self-portrait. Some of its elements follow the intellectual conventions of the time—showing a lady at a musical instrument was a way to signal the refinement of the sitter, in this case Fontana herself. Since the musical notation is held by the servant away from her eyes, this gives a further clue that the sitter is able to read the musical notation but does not even need it since she knows it by heart. While these were prevailing artistic conventions, Fontana's skill was anything but conventional. The skin tones are delicate and glowing while her sumptuous dress displays all the shades of mauve. In fact, the artist must have loved this in-between combination of purple and pink because she painted several major paintings with women dressed in this hue, most notably her masterpiece of Judith and Holofernes.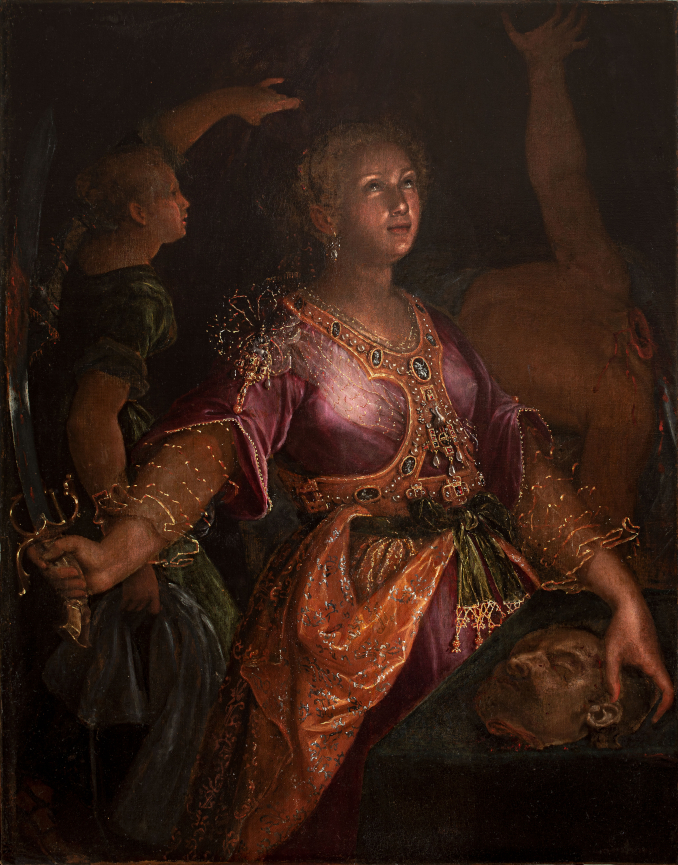 Lavinia Fontana. Judith and Holofernes, c. 1595. Oil on canvas. Bologna – Fondazione di culto e religione Ritiro San Pellegrino. Photo credit: Courtesy of © Prado National Museum, Madrid, Spain
Unlike Anguissola, a noblewoman whose service at the Spanish court was a socially appropriate career, Fontana was the child of a painter with a modest social position, and she did not travel outside her native Bologna. Instead, she married and then had 11 (sic!) children. In between her family duties she managed to complete altarpieces, beautiful commissioned portraits, and religious scenes for churches and aristocratic collections. She even excelled at a genre that was basically closed to women artists of her time—the nudes. Because women were not allowed to sketch nude models at art classes (too indecent) or conduct autopsies (ditto!), they were not hired to provide this kind of art for home decorations. A cheeky Mars and Venus painting from 1595 is proof that Fontana, a stately wife and mother, fearlessly broke this convention, too.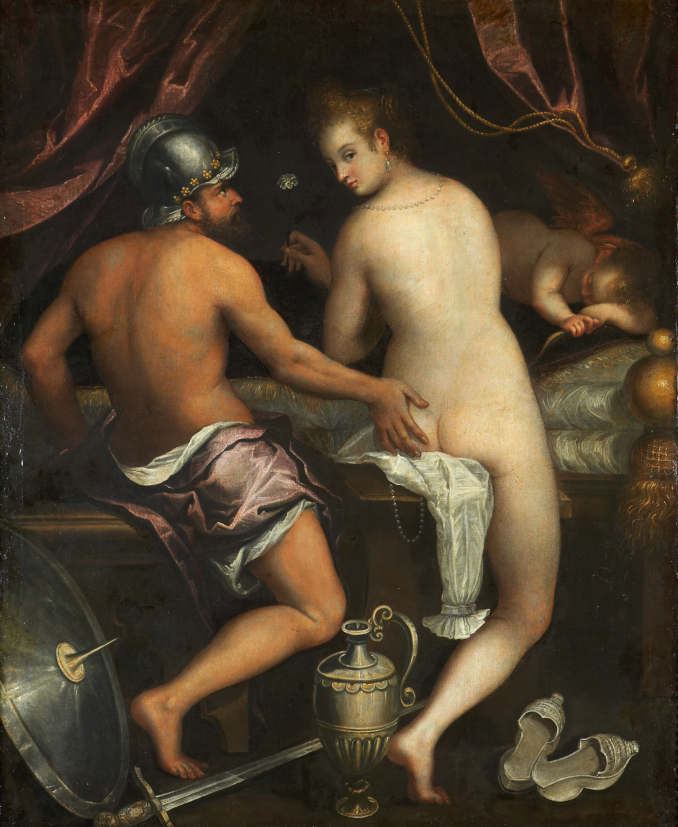 Lavinia Fontana. Mars and Venus, c. 1595. Oil on canvas. Madrid- Fundación Casa de Alba. Photo credit: Courtesy of © Prado National Museum, Madrid, Spain
It is quite amazing that artists as unique and interesting as Anguissola and Fontana could practically disappear into obscurity for several hundred years. Anguissola, who in her 90s was giving painting tips to Anthony van Dyck, has been forgotten so much that some of her art is still being re-attributed.
The exhibition "A Tale of Two Women Painters" is open at the Prado National Museum in Madrid between Oct. 22, 2019 – Feb. 2, 2020.
Check It Out!