Food for the Soul: Lost Masterpieces. Part 2: Missing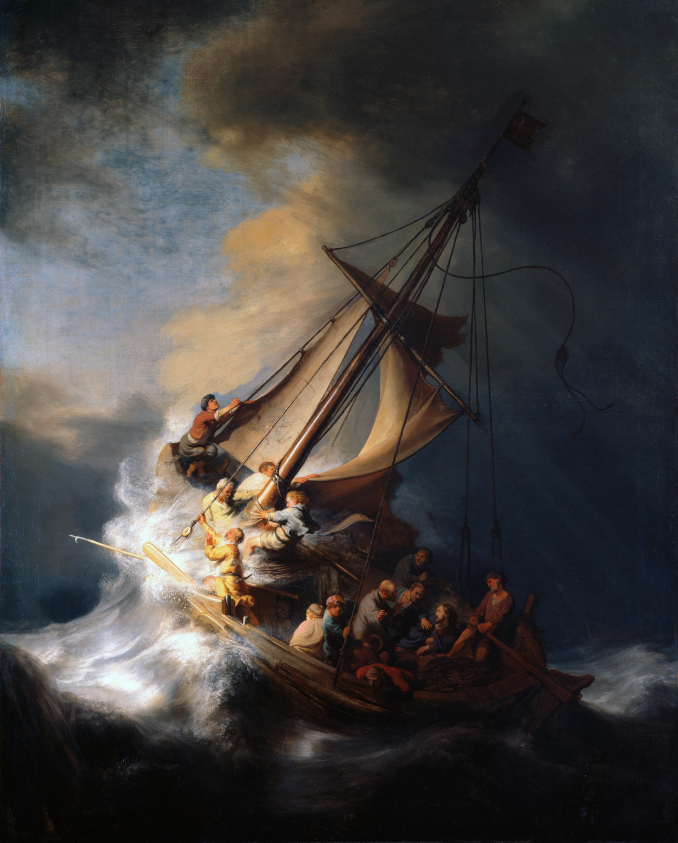 The Storm on the Sea of Galilee. Rembrandt van Rijn (1633). Stolen in 1990 from Isabella Stewart Gardner Museum. Boston. Photo: Public Domain Wikimedia Commons.
By Nina Heyn – Your Culture Scout
Since antiquity, artworks have been the first thing to be looted. By the turn of the 19th century, the collection of war trophies achieved a monumental scale, thanks to Napoleon's quests as well as colonial collectors making expeditions around the world.
Napoleon systematized the plundering of conquered lands, sending back home artworks from wherever his army went—Spain, Poland, Italy, or the Austrian Empire. When he took almost two hundred scientists and artists on his Egyptian campaign, their exploration (and plunder) of antiquities launched the science of Egyptology and enriched the Louvre and private collections.
Although Napoleon was hardly the first conqueror to appropriate treasures, he was certainly one of the most accomplished—until Hitler came along with his EER art theft unit (Einsatzstab Reichsleiter Rosenberg). The seizure of anything of artistic value carried on from Hitler's ascent to power all the way to his infamous Nero Decree in 1945. The EER's rampage through European art collections has been well documented, but there is one looting that is particularly painful for the history of art. Raphael's Portrait of a Young Man is believed to be his self-portrait, painted around 1513 when the artist had reached the apogee of his social standing—indicated in this portrait by the sable-fur-lined coat and a Persian carpet—and at a time when his skills made him one of the most sought-after artists in Rome.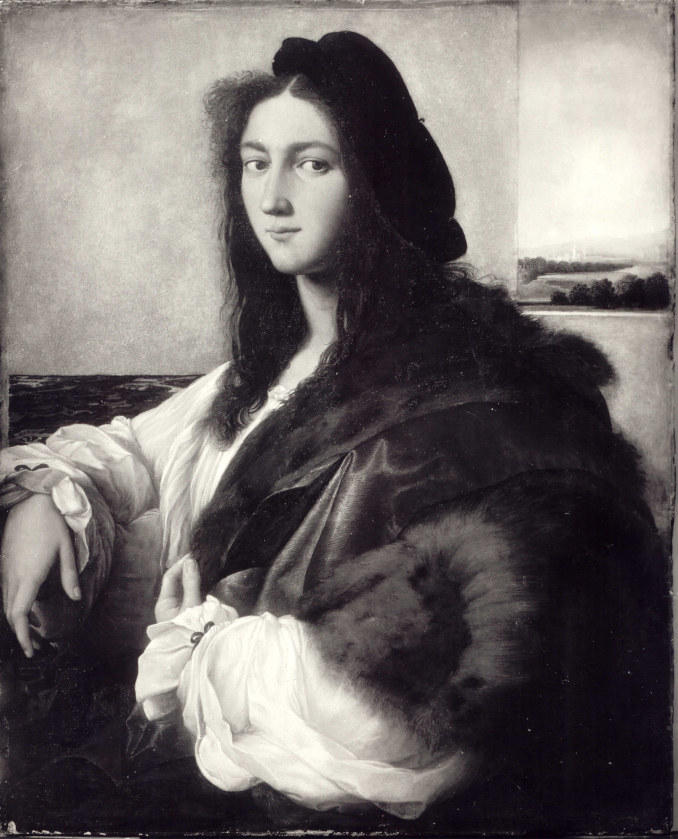 Portrait of a Young Man. Raphael (C. 1513). Stolen from the Czartoryski Collection in Kraków during WWII. Photo: Public Domain Wikimedia Commons.
This famous portrait had been part of the Prince Czartoryski collection in Poland since 1798, until the country fell to the German army in September 1939. The Nazi governor of Kraków, Hans Frank, took over the Wawel Royal Castle and initially decorated his rooms with this Raphael, Rembrandt's Landscape with the Good Samaritan, and da Vinci's Lady with Ermine, but he was later compelled to send them to his boss and another art connoisseur. Hitler was assembling a collection of the best artworks plundered from all the conquered countries—his pet project was a plan for an art museum in his native city of Linz. Toward the end of the war, Frank managed to get this art back, but by then the Red Army was approaching Kraków, so he escaped to Germany, taking the paintings with him. And that is where the trail goes cold. Although Hans Frank was tried at Nuremberg, and Lady with Ermine and the Rembrandt were recovered in his villa, the Raphael portrait is still missing, together with over 800 other collection pieces. In Canterbury and Bergamo, there are small copies of the painting made in later centuries, but there is no color photo of the original since it was stolen before color technology existed. The estimated value of the painting is $100 million. Poland offered a reward to retrieve the canvas, but so far only an empty original frame hangs at the museum. The looting of this Raphael masterpiece is considered the most significant loss in the history of European art ever.
ARVE Error: Invalid URL https://youtu.be/kJKWjeMtEDM in url

In real life, art theft is not as charming as in The Thomas Crown Affair, a light-footed story of a gentleman-thief, here embodied by Pierce Brosnan (there is also an earlier version of this movie with Steve McQueen). Museum theft became a common event in the 20th century, when it was not only tourists who started massively flocking to art museums but criminals who discovered the power of art—and especially the power of art pieces as potential collateral in money laundering or as bargaining chips in case of an arrest. Unfortunately, museum theft is often more brutal and damaging than any movie can show.
The London-based Art Loss Register, the world's largest private database of stolen art, records over 10,000 missing artifacts a year. They have in their database over 700,000 stolen pieces, and every year over 300,000 items that sell all over the world get checked by the register. Over 100 Rembrandt paintings are missing, as are close to 500 works by Picasso, followed by missing art by Raphael, Rubens, Vermeer, Titian, Monet, and more—many artists' legacies are incomplete due to theft or destruction. Many of these missing paintings were sitting exposed in historic mansions, or at temporary shows in unprotected buildings, or in museums with token security, vulnerable to any thug with a chisel and fast legs.
Caravaggio's life was short and tumultuous. He had a history of conflicts with his papal patrons, and he would get into drunken bouts with Roman youths. One such brawl ended up in a fateful duel in which he mortally wounded his opponent. Condemned to death by the papal court, he wandered for 10 years in exile around Naples, Malta, and Sicily, all the while trying to obtain a pardon from Rome. Nativity with St. Francis and St. Lawrence is similar in style to his masterpiece, Vocation of St. Matthew, and it is one of the only four Caravaggio paintings that could once be seen in Sicily.
Nativity with St. Francis and St. Lawrence. Caravaggio (1600). Stolen in 1969 from Oratory of San Lorenzo in Palermo. Photo: Public Domain Wikimedia Commons.
Except that this particular masterpiece cannot be found…. In 1969, the unprotected San Lorenzo Oratory in Palermo was the victim of a brutal art heist, and Nativity was ripped out of the frame with scraps of canvas still left hanging. From the beginning, there was little hope that the local police would solve this crime. Palermo's chief of police declared himself a Caravaggio admirer but also admitted that he had no idea that his idol's painting was even located in his city. The national police were more energetic in pursuing leads and the various negotiations with the underworld that took place. Mafia involvement in the heist was obvious, with numerous organized crime contacts providing clues. Unfortunately, nothing was found, and by now, fifty years on, the canvas is presumed destroyed, with the actual perpetrators assumed to be long dead. This theft, traumatic for Italy as a nation, led to the creation in Rome of the first police force in the world dedicated to safeguarding and recovering stolen art. In 2015, the Sky Italia broadcasting conglomerate sponsored a high-quality reproduction—a process that used digitized files of 1950s photos and manual repainting. The facsimile was hung in the original frame, allowing the public to be familiar again with Caravaggio's masterpiece, albeit in its artificial form.
The most egregious art heist in modern times is probably the robbery at the Isabella Stewart Gardner Museum in Boston in 1990. Not only have the canvases never been recovered, but it was also a theft of some of the most precious paintings from the point of view of art history. Considering how notorious and, therefore, unsellable this loot is, there is little hope for recovery.
This famous heist represents a litany of security lapses, unfollowed clues, and lost opportunities. It was also well planned, taking place during boisterous St. Patrick's Day celebrations, with the two robbers wearing fake mustaches and posing as cops. They had hardly any trouble in gaining access. The museum, full of priceless art, was guarded by two music school students, moonlighting as night security personnel, who promptly buzzed in the fake cops. The robbers had time to take Vermeer's The Concert, Rembrandt's The Storm on the Sea of Galilee, and Manet's Chez Tortoni, together with ten other works of art. There is a theory that "Whitey" Bulger, the head of Boston's underworld, ordered or sanctioned the hit, providing the art to the IRA. Since he is no longer alive and the political scene in Northern Ireland has also changed, the trail is now very cold. Notwithstanding a $5 million reward and lots of books, documentaries, and TV show episodes covering the heist, the pictures are still missing. Because only 34 acknowledged Vermeer paintings exist in the world, losing one of them is an irreplaceable loss. The loss of the Rembrandt is also tragic because Rembrandt never traveled, spending most his life in Amsterdam, and The Storm on the Sea of Galilee was his only seascape. Unfortunately, with every year since 1990, there is less hope that the paintings can be found, and even less that this Rembrandt—rumored years ago to have been mangled during the heist—will ever resurface intact.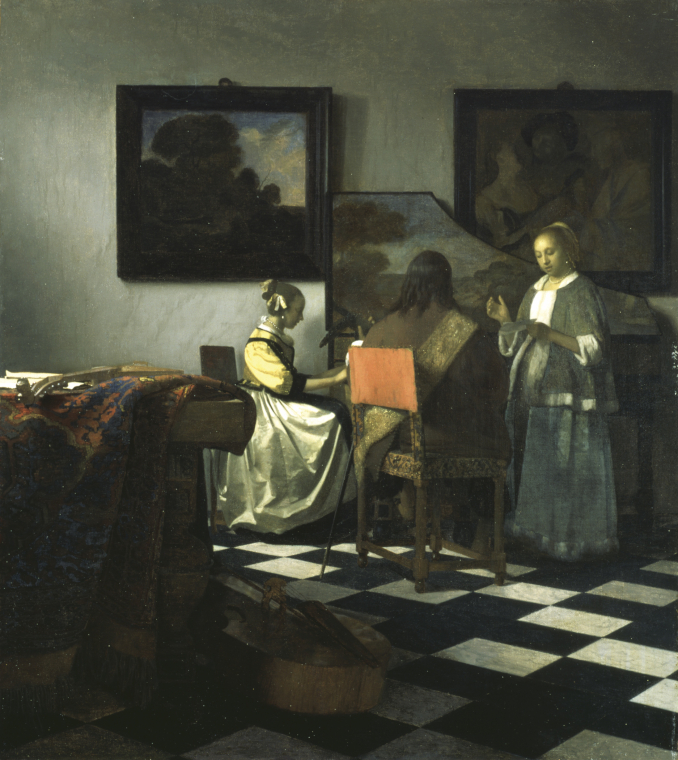 The Concert. Johannes Vermeer (C. 1664). Stolen in 1990 from Isabella Stewart Gardner Museum. Boston. Photo: Public Domain Wikimedia Commons.
If you created an imaginary gallery filled with missing artworks, the Boston theft paintings would be the exhibition stars, together with Monet landscapes stolen from Rio de Janeiro, Baroque landscapes and still lives stolen from several Dutch museums, da Vinci's Madonna with the Yardwinder, Gerôme's Pool in the Harem, Lucian Freud's portrait of Francis Bacon, and many other works that future generations will never get to see. Art theft has become a commonplace, low-risk crime. It is one more reason to visit museums while you can—you never know when you might be seeing something for the last time.