Food for the Soul: Olga Boznańska – Women Artists Series 6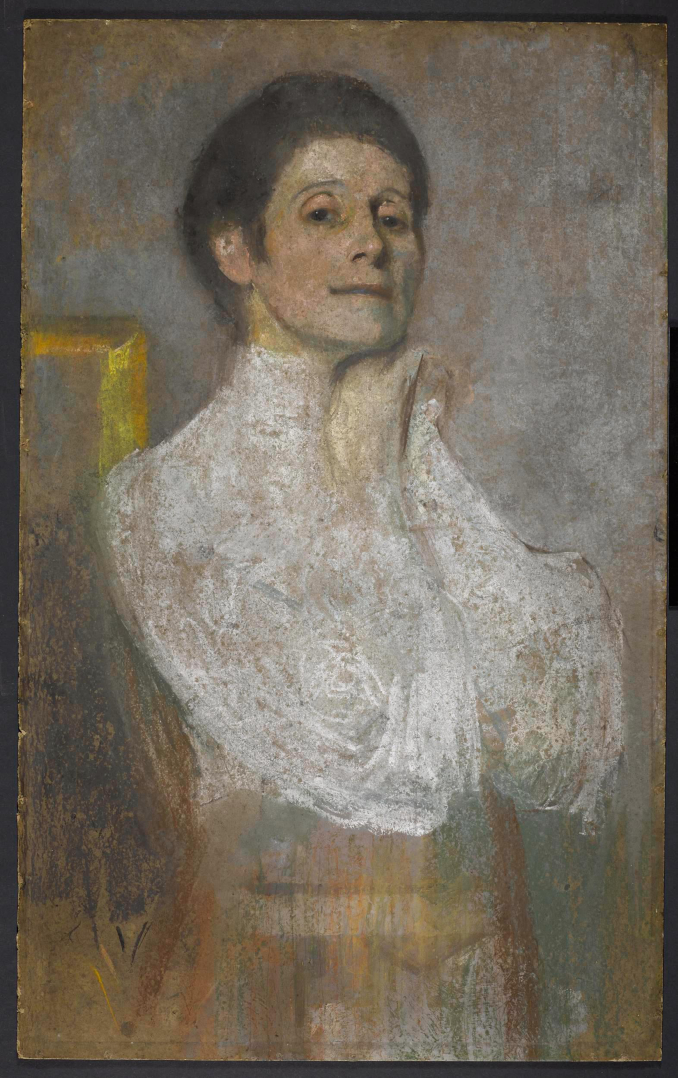 Olga Boznańska. Self-Portrait, 1908. Pastel, gouache on cardboard. National Museum, Warsaw. Photo: Wikimedia Commons
By Nina Heyn – Your Culture Scout
Even casual museumgoers are familiar with such female artists as Georgia O'Keeffe or Mary Cassatt—celebrated painters whose art is prominently displayed in major Western galleries. Fewer art lovers are familiar with someone like Olga Boznańska, even though she was very active in the early 20th century, working not only in her native Kraków but also in Munich and then for over 40 years in Paris. In her native Poland, she has been famous for a long time—but, typically, more appreciated after her death in 1940 (she died alone, forgotten, in German-occupied Paris) than during her lifetime. Though her painting style echoes the Impressionists' loose brushwork, she was disdainful of landscapes: "You cannot sit the landscape down on a sofa and ask it to come back to the studio for a dozen sittings," she would say. So, she was a portraitist, mostly painting portraits and flowers. One of her early portraits of her favorite subject—a child—has been considered a masterpiece ever since she painted it in 1894 in Munich, the city of her greatest artistic achievements.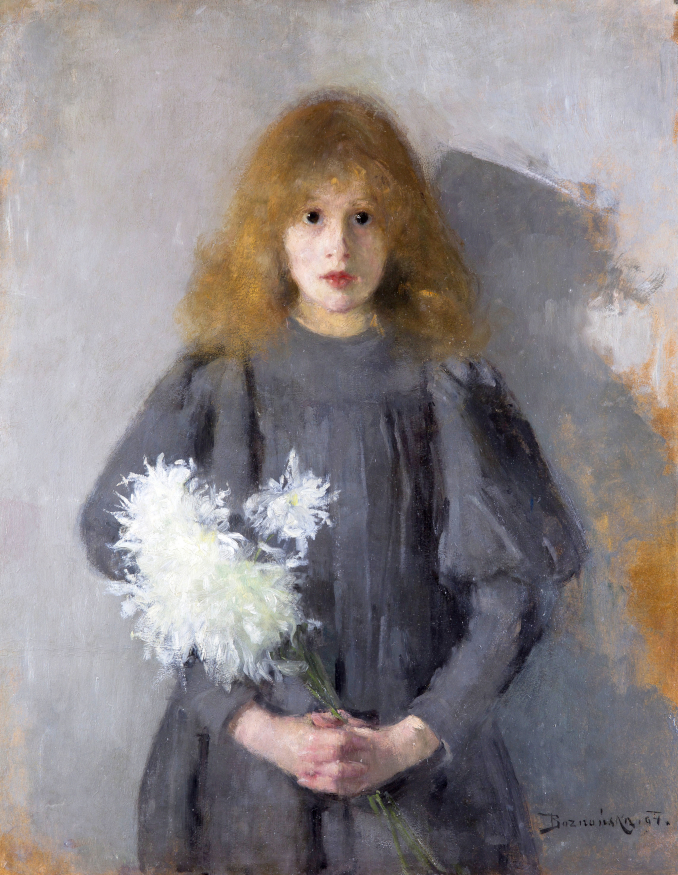 Olga Boznańska. Girl with Chrysanthemums, 1894. Oil on cardboard. National Museum, Kraków. Photo: Wikimedia Commons
Girl with Chrysanthemums seems to have been influenced by James McNeill Whistler (compare it with his Harmony in Grey and Green) in the sense of style and color palette; however, those enormous dark eyes and the model's serious expression are Boznańska's own contribution to portraiture. There is gravity and even perhaps mystery in this posed, formal image. The girl's somber expression clashes with the fluffy flowers she is holding. . . or perhaps they are not entirely out of place because white chrysanthemums are traditionally placed at gravesites in Poland and some other European countries. They are not given as cheerful bouquets. There is certainly a sad vibe of anxiousness or even bereavement in this painting.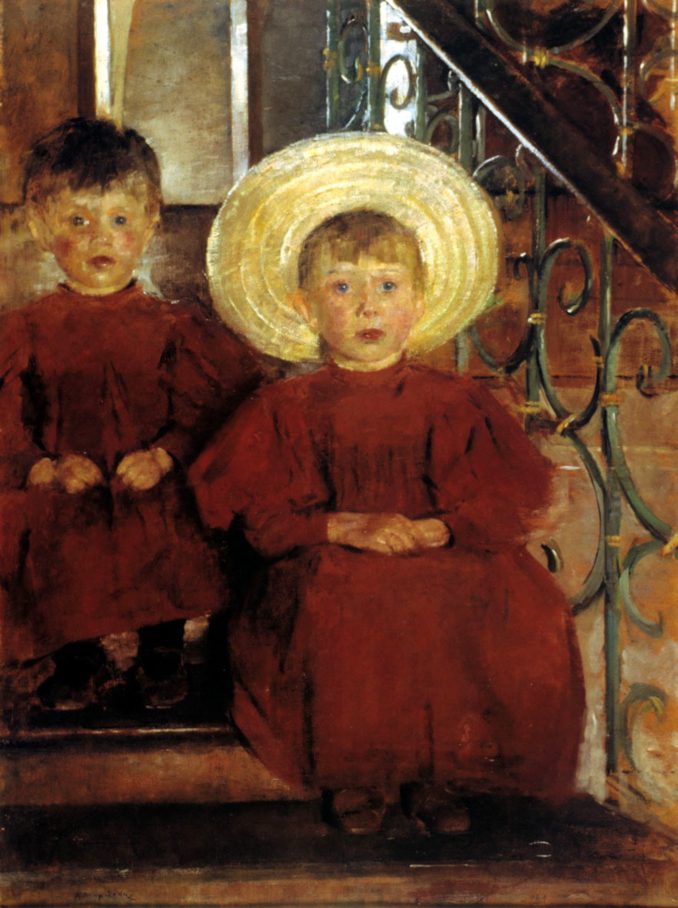 Olga Boznańska. Portrait of Two Children on the Stairs, 1898. Oil on cardboard. National Museum, Poznań. Photo: Wikimedia Commons
Not all of Boznańska's famous portraits of children were so sad, but her little sitters always look unnaturally serious, as if she needed to reach into a sitter's soul—and any socially expected smiling would stand in the way. Portrait of Two Children on the Stairs was painted during her artistically most fecund period in Munich. She lived there for a decade, making huge strides in crafting her individual style—one that was in opposition to the pompous historical paintings that dominated Mitteleuropa at the time. The two kids are arranged in identical poses, and they are wearing the same red smocks; one has a cute straw hat that looks almost like a halo. The ornate green ironwork provides a contrasting backdrop. Everything in this picture would be almost too cute if not for the masterly application of color and light—and the serious facial expressions that were the artist's hallmark.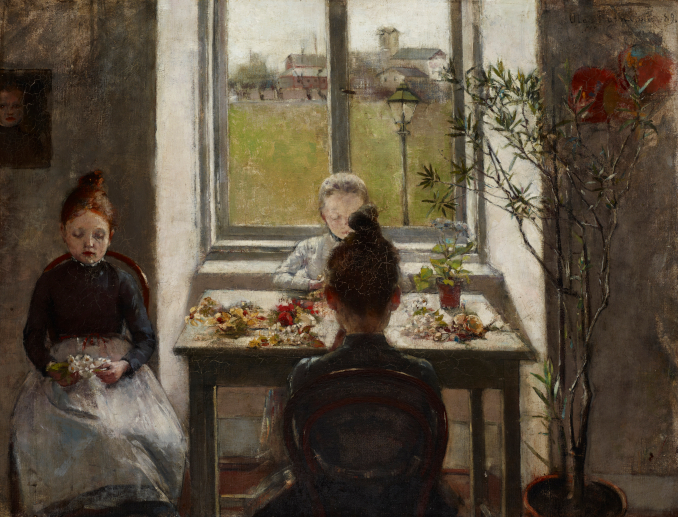 Olga Boznańska. Florist Girls, 1889. Oil on canvas. National Museum, Kraków. Photo: Wikimedia Commons
Here is one more painting of youngsters, painted when the artist was just starting out in Munich. Florist Girls is a fantastic composition, with a central bay window providing an outside view that opens up the picture and, at the same time, furnishes a brightly lit focal point for the three figures. This picture looks like a reinterpretation of Dutch Baroque paintings of women working in interiors. Given that this was early in Boznańska's artistic career, the figures are not yet perfect, but the folds of the apron and the light on the central figure already are. The telltale serious expressions on the girls' faces are here as well.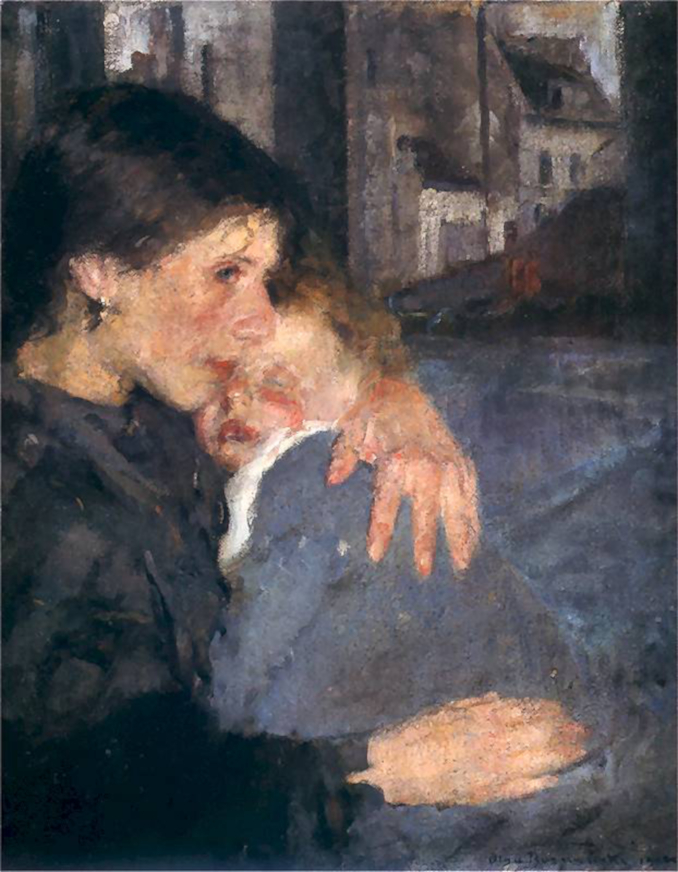 Olga Boznańska. Maternity, 1902. Oil on cardboard. Private Collection. Photo: Wikimedia Commons
Even when she painted the popular theme of a mother holding a child, Boznańska's paintings were different from Berthe Morisot's or Mary Cassatt's tender portraits of mothers caring for their little ones. Boznańska's Maternity seems to be telling some disturbing story. The mother has a questioning look on her face, and she is clutching the child in an extremely protective way. There is also a strange streetscape behind her, suggesting that she may be sitting on the doorstep of a house. Is she homeless? She is wearing jewelry, so perhaps not. Is she sitting at an open window? Why does she look slightly anxious—is she worried about the future? Was the child born out of wedlock perhaps, or is she just thinking serious thoughts? The artist is telling some story here (or maybe even illustrating some literary work), but of course, viewers can construct their own tale and spend hours pondering the poetry of this picture.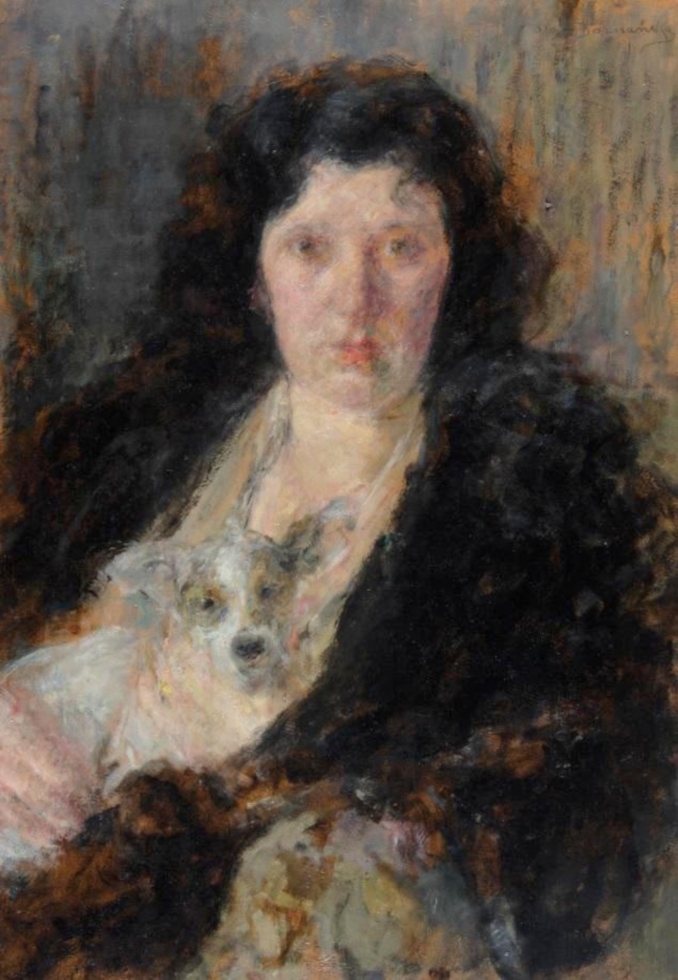 Olga Boznańska. Portrait of Włodzimiera Lipońska, 1931. Oil on cardboard. National Museum, Kielce. Photo: Wikimedia Commons
Many of Boznańska's portraits were painted as commissions, often requested by prominent Polish artists, politicians, or landed gentry of the period. But even when painting commissioned works, her artist's eye sought the psychological truth of the person painted. In Portrait of Włodzimiera Lipońska, she paints her sitter with a serious if slightly unsure expression, as if this woman was a bit reluctant to pose or needed some security lacking in her life. Maybe the warm fur stole around her arm provides some confidence, along with the dog who is clearly so self-assured that he is sitting for a portrait as well. He is not an accessory—he has an individualized expression and an important placement in this composition. Or perhaps he is just a very friendly pet of the artist, happy to serve as a model? Here is a photograph of Boznańska with her favorite canine companion, who looks almost exactly like the one in this painting: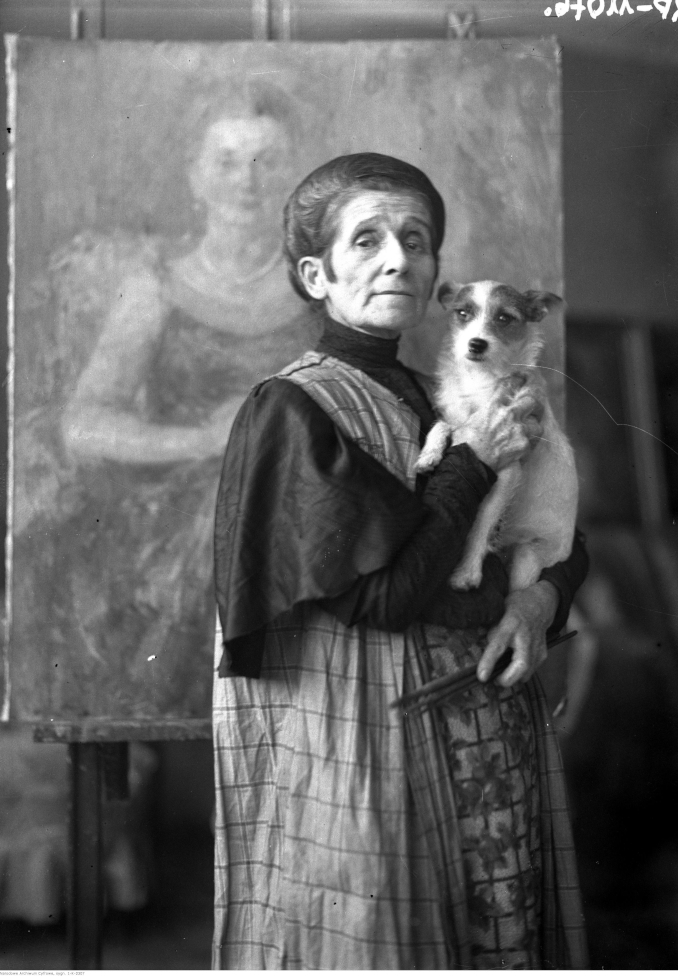 Photo of Olga Boznańska in her studio. Photo: Wikimedia Commons
In a portrait entitled Yearning, the psychology of the sitter is again as important as the choice of color and brushstrokes. In 1900 when this was painted, formal frontal portraits of real people rarely presented someone with an open mouth. This portrait does, because this is above all a painting of a feeling.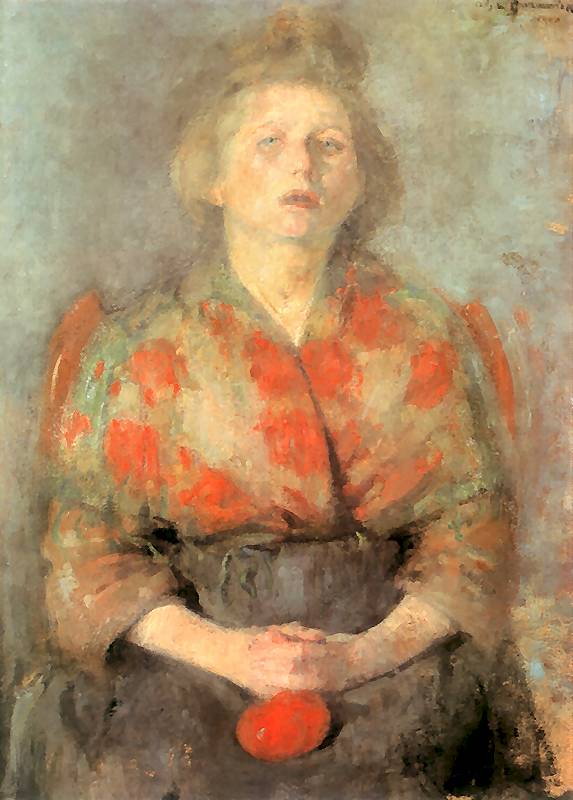 Olga Boznańska. Yearning/Tęsknota, 1900. Oil on cardboard. Private Collection. Photo: Wikimedia Commons
This woman, not very elegantly dressed (perhaps a housekeeper in Paris, a city to which the artist had moved two years prior), has an expression of anxiety and a gaze that reaches far beyond. The title, which can be translated as "yearning" or "longing," suggests that the artist wanted to capture some unrealized wish or desire—for a person, or for something to happen? The style might be Impressionist or even Post-Impressionist, but the psychology here is more that of the Secession (Freud, Jung, Klimt, Munch, Steiner)—all the mucking around the soul and mind that was en vogue at the time.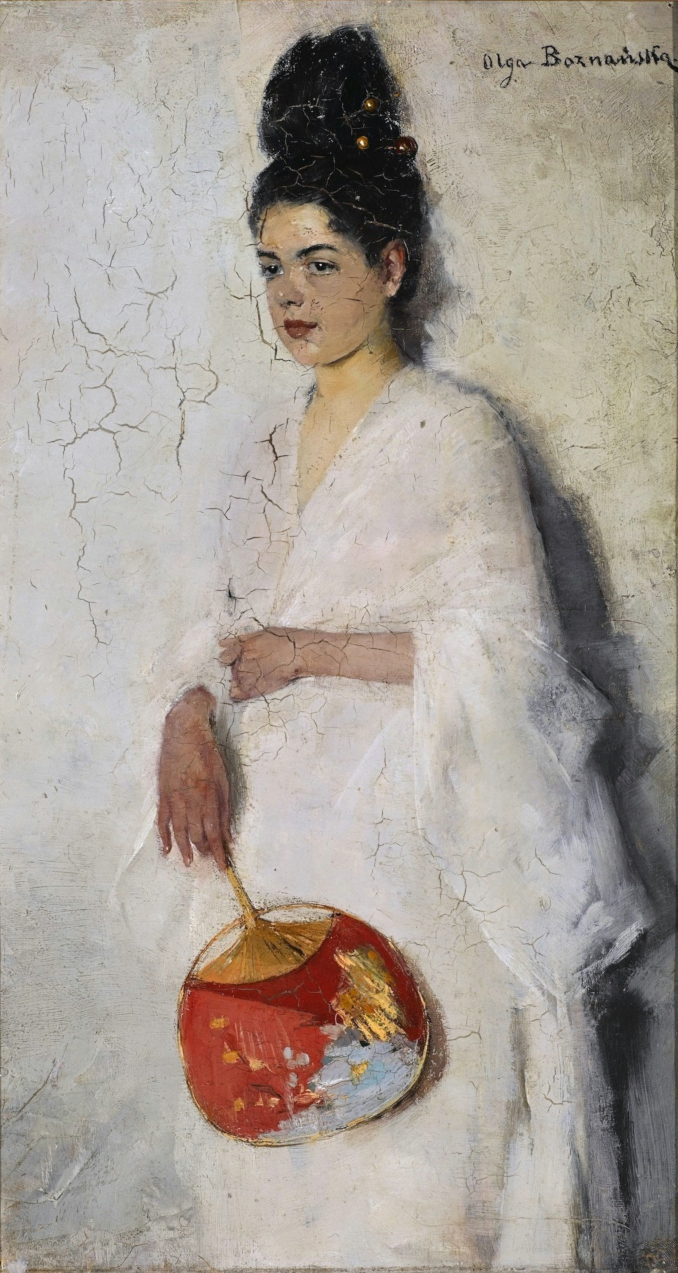 Olga Boznańska. A Japanese Woman/Japonka, 1889. Oil on oak panel. National Museum, Warsaw. Photo: Wikimedia Commons
Europe discovered Japanese art and style in the mid-19th century, and Boznańska was fascinated by Japanese costume and design as well. She painted her own self-portrait with a Japanese parasol, while in this portrait, she dressed a young model in a Japanese costume. The paint in this work has not weathered time well, but it still retains some of the original luminosity. Unfortunately, Boznańska's later paintings do not look as radiant and intriguing as her early work; they have a much darker palette, and many of them yellowed with time because they were painted on cardboard that sucked oil out of paint.
Not a single of Boznańska's self-portraits shows her with a brush and a palette—she did not need to document her profession as many female artists before her did. She lived her own way. She had several long relationships but never married; she stuck to her style despite many revolutionizing changes in art; and she always maintained a distinguished "regal" posture and manners (critics called her "the First Lady of Polish painting") rather than embrace the bohemian, artistic lifestyle that was so fashionable at the time.
Sadly, Western art books never mention Olga Boznańska, not even those ubiquitous and trendy anthologies of female artists. You can find stories on second-rate debutants but nothing on this mature, accomplished artist with a body of work that spans decades. A lot of her portraits are in private hands, and only a few Western museums have some samples of her work. Boznańska is still almost as unappreciated outside her native country as she was 100 years ago.