Food for the Soul – Julie Mehretu – Women & Art Series 8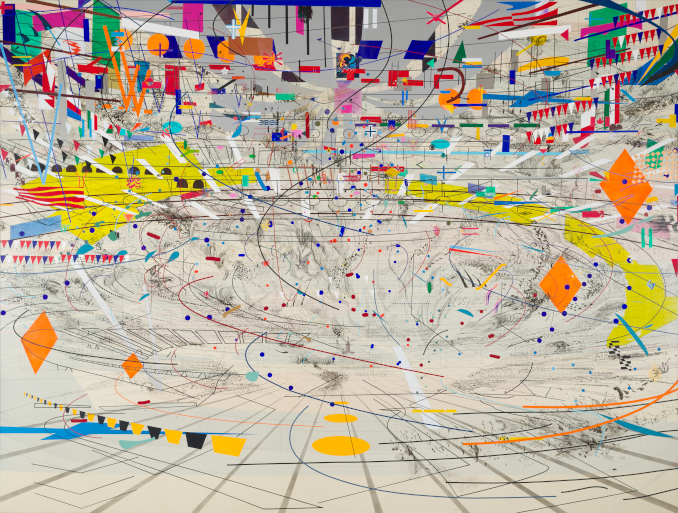 Julie Mehretu. Stadia II (2004). Carnegie Museum of Art, Pittsburg; gift of Jeanne Greenberg Rohatyn and Nicolas Rohatyn and A.W. Mellon Acquisition Endowment Fund 2004.50. Photo: Courtesy the Carnegie Museum via the Whitney. © Julie Mehretu
By Nina Heyn – Your Culture Scout
The joint exhibition of the Whitney Museum of American Art and Los Angeles County Museum of Art (LACMA) covers two decades of work by Julie Mehretu—an artist who expresses her political and social angst through abstract art. The Whitney is a New York museum that has moved its premises twice, and its latest space—glass-and-white-walled, Renzo Piano-designed—is perfect for displaying Mehretu's huge canvases full of dramatically soaring lines.
An exhibition that covers decades of an artist's work can always present an interesting evolution and, in this case, it shows the development of Mehretu's artistic language in works that are increasingly more about ideas than just a style of painting. Mehretu was born in Ethiopia, grew up in Michigan, and moved to New York in 1999, where she has been based ever since. She initially created her own imagery of lines, squiggly marks, nature symbols, and tiny glyphs—a kind of private alphabet that she developed for her idiosyncratic visual language. There are drawings that look like maps (of her unconscious mind? of her very conscious references to topographic maps or landscape paintings?), and others that look like graphs or maybe botanical or scientific tracings.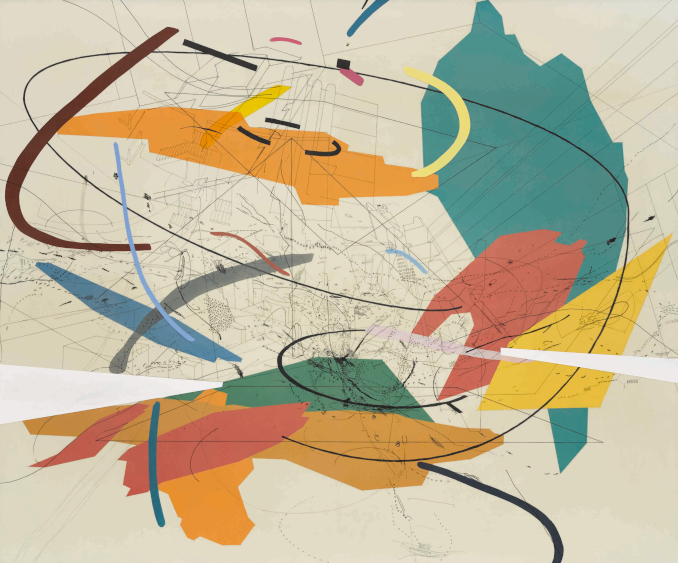 Julie Mehretu. Untitled II (1999). Private collection, courtesy of White Cube © Julie Mehretu
This artist tends to create in cycles of paintings. There is a series of paintings, for example, that start out looking like architecturally precise elevation plans of city buildings (such as pre-war Berlin or Venice); then the artist superimposes stripes and streaks of color over them, transforming the anonymous but detailed schematics into paintings full of emotions. You could say that Mehretu brings the colorful "chaos of life" into the underlying black-and-white "structure of life."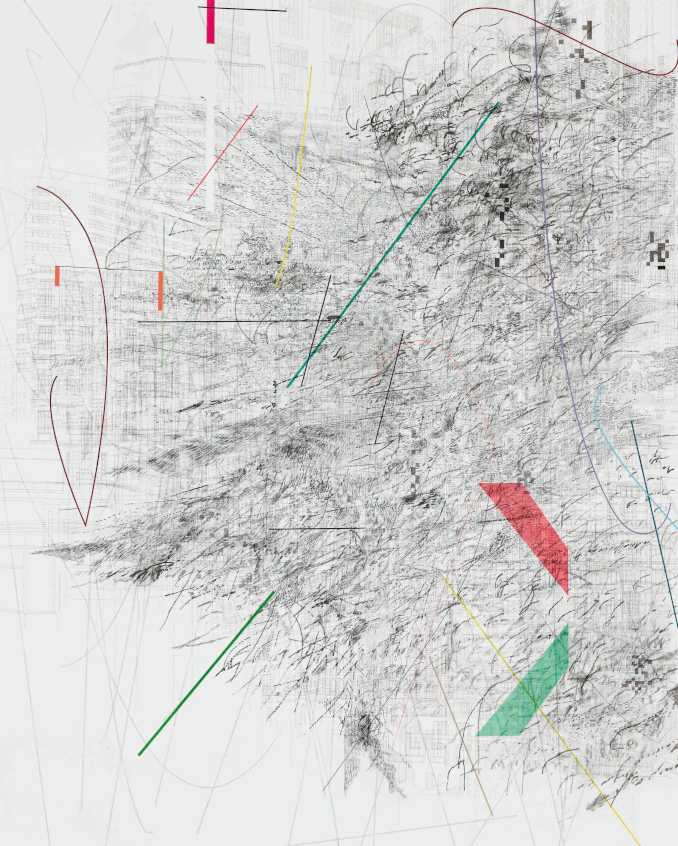 Julie Mehretu. Mogamma, A Painting in Four Parts, Part 1 (2012). Guggenheim Abu Dhabi. © Julie Mehretu
In the second decade of this century, Mehretu's visual language changed again. She is a politically engaged artist whose paintings are her reaction to political or environmental events such as racial attacks in the U.S., the burning of Rohingya villages, the Arab Spring, California fires, or the Gulf Wars. However, since her art is not representational but abstract, you can only find out about her political statements from labels or descriptions of her paintings. The actual canvases are visually complex and compelling, but the message is hidden, sometimes literally.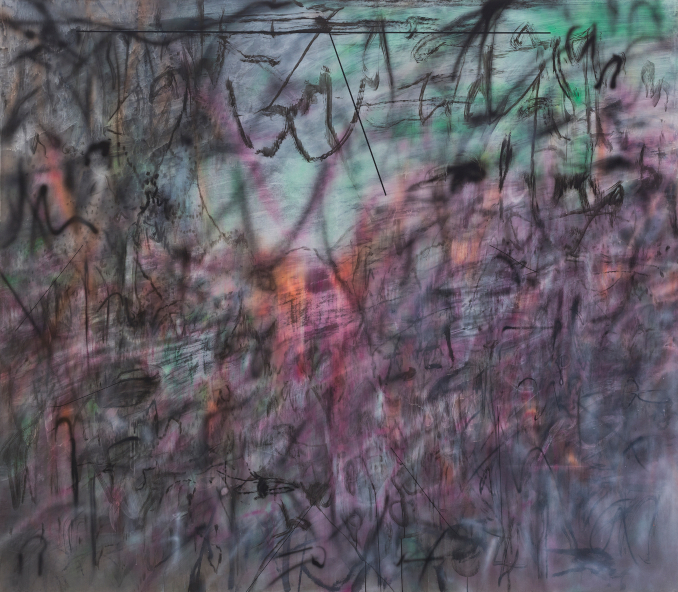 Julie Mehretu. Conjured Parts (eye), Ferguson (2016). The Broad Art Foundation, Los Angeles. © Julie Mehretu
In Mehretu's cycle of paintings from 2016-2021, the artist starts from an enlarged photo of a political event—for instance, the 2014 killing of Michael Brown by the police in Ferguson, Missouri—and then the photo gets entirely covered by layers of acrylic spray in graffiti-style splashes of bright paint to the point of just being a large abstract canvas. The original photo that gave the artist's impetus to Mehretu has disappeared, and you can only recreate her political statement or concern by reading a catalog. The image is still powerful, and visually arresting and, once you know the context, a vivid commentary on violence, warfare, or environmental damage.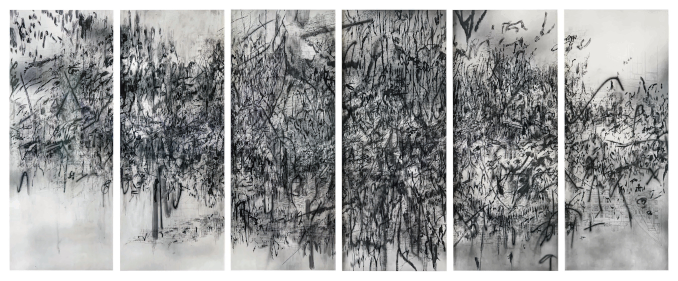 Julie Mehretu. Epigraph, Damascus (2016). LACMA; gift of Kelvin Davis and Hana Kim through the 2018 Collectors Committee. Printed by BORCH Editions, Copenhagen
Perhaps the best synergy of the political and the abstract in Mehretu's art can be found in a series of mixed-media, black-and-white images that are reminiscent of canvases created by Cai Guo-Qiang. Where this contemporary Chinese artist uses his unique methods of exploding gunpowder in intriguing, abstract canvases, Mehretu uses paint, ink, and photo tint—but the effects of these energetic splashes of black shapes are similarly "explosive." The title, in this case Epigraph, Damascus, completes the viewer's experience since it evokes recent political and social references.
When the abstract entered the world of art almost exactly a hundred years ago, painters such as Kandinsky or Miró were reacting against the yoke of representational art and trying to remove their works away from the burden of historical facts and social ideas. Art was supposed to be pure color and line. In Mehretu's canvases, the same abstract lines and color are now fascinatingly tied to very specific current events, political statements, and numerous historical and stylistic references. The more things change, the more they stay the same….
The current Julie Mehretu exhibition at the Whitney Museum of American Art is open until August 8, 2021.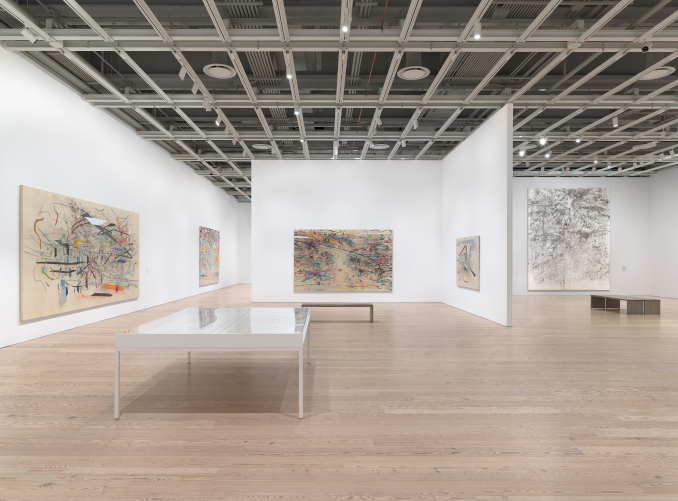 Installation view of Julie Mehretu (Whitney Museum of American Art, New York, March 24-August 8, 2021). From left to right: Retopistics: A Renegade Excavation, 2001; Stadia II, 2004; Dispersion, 2002; Untitled 2, 2001; Mogamma (A Painting in Four Parts) (2 of 4), 2012. Photograph by Ron Amstutz