Food for the Soul: Academy Museum of Motion Pictures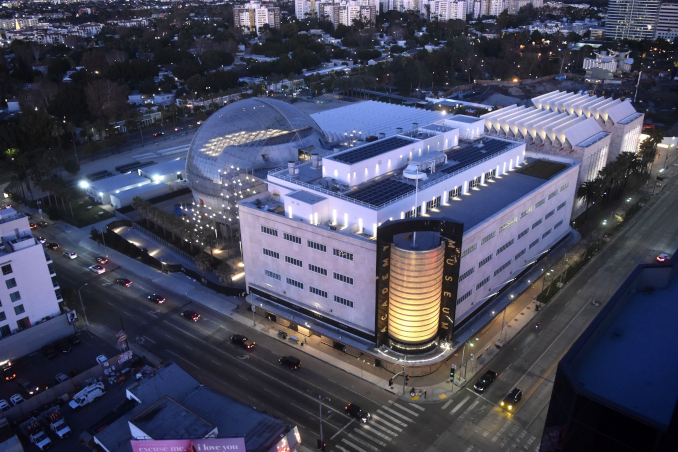 Aerial shot of the Academy Museum of Motion Pictures. ©Academy Museum Foundation
By Nina Heyn – Your Culture Scout
It took years of false starts, changes of leadership, delayed construction, and other birthing pains, but it is finally here—a museum devoted to the craft, art, and history of moviemaking. The Academy Museum of Motion Pictures finally opened in Los Angeles on September 30, 2021.
Part of the new building complex was repurposed from an old May Company department store, preserving the golden mosaic Art Deco tower on the corner of Wilshire Boulevard. Renzo Piano—the architect responsible for the London Shard, the Whitney Museum in New York, and, most famously, the revolutionary design of the Centre Pompidou in Paris—has transformed the central store building into a modern glass and steel cube, adding a spherical structure that houses two movie theaters and a huge terrace with a panoramic view of the Hollywood Hills. It did not take Los Angelenos long to rename the ball structure the "Death Star," in mocking tribute to this milestone of cinema called Star Wars.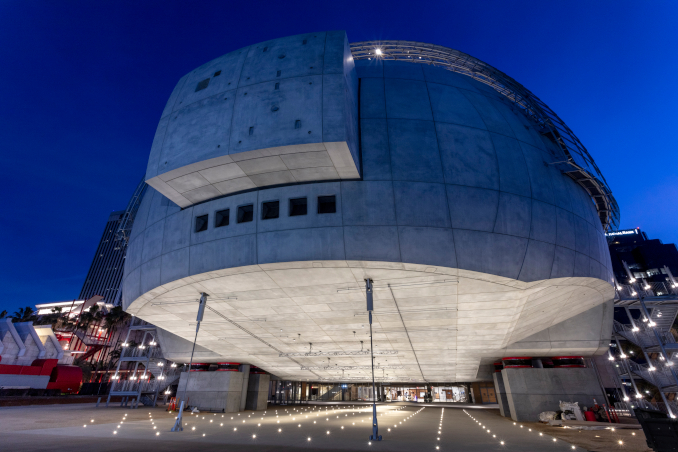 Academy Museum of Motion Pictures, David Geffen Theater Exterior. Photo by Josh White, JWPictures/©Academy Museum Foundation
The new museum boasts 50,000 square feet of gallery space devoted to permanent and temporary exhibitions, along with an educational facility, event spaces, and a couple of restaurants.
The permanent displays include galleries devoted to early cinematic inventions such as the paper carousels, the zoetrope, and other mechanical devices that helped transform flipbook images into magic shows of moving images. As soon as electricity and sound recording inventions were available, the early moviemaking efforts of the end of the 19th century morphed into more and more elaborate moving pictures. There is a reason why, until this day, the art of cinema is dubbed "motion pictures."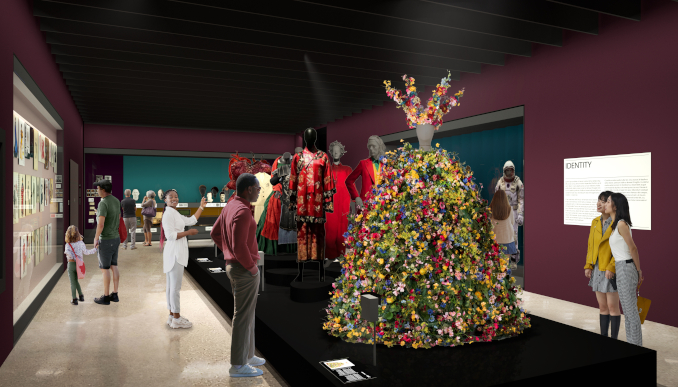 Identity gallery in Stories of Cinema, ©Academy Museum Foundation/Image by WHY Architecture
There are also galleries devoted to the crafts of costuming, make-up, and production design; others highlight screenwriting, or more technical aspects of filmmaking such as editing and special visual and sound effects. These displays demonstrate how quickly the actual process of making movies has changed over time. For example, you can find a museum exhibit of a large editing unit (the size of a couple of large desks)—a machine for splicing and editing together celluloid film tape. Only a few decades ago, these machines were in editing rooms all over the world, whirring busily day and many nights, while now they have been replaced by banks of computer screens, and you can see one only as part of cinematic history.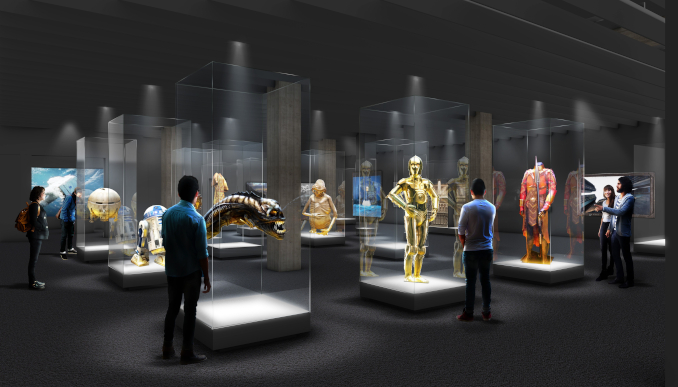 Encounters gallery in Stories of Cinema, ©Academy Museum Foundation/Image by WHY architecture
A fascinating section called "Stories of Cinema" is devoted to some iconic objects from the most famous movies—Star Wars robots, for example, or creatures from Ridley Scott's Alien movies, prosthetics from the Terminator movies, and costumes from Black Panther. While some of these props, maquettes, and costumes occasionally used to show up at Hollywood studio tours or at commemorative displays, it feels good to see that a lot of Hollywood's creative heritage has now found a permanent and professional home. The museum collection began being assembled in 2008, and by now numbers 237,000 film and video assets, 12.5 million photographs, and 133,000 pieces of production art. Collectors of film memorabilia may also be happy to find at the museum items documenting the careers of Cary Grant, Katharine Hepburn, Hattie McDaniel, Alfred Hitchcock, and John Huston.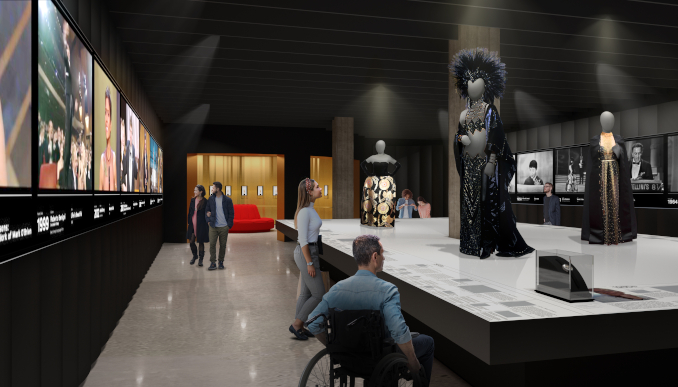 Academy Awards History gallery in Stories of Cinema, ©Academy Museum Foundation/Image by WHY Architecture
An inaugural temporary exhibition honors the Japanese artist Hayao Miyazaki, who is considered a giant in the animation world. Since the 1970s, Miyazaki has been making gems of animation that have inspired generations of artists and fans of anime and manga art. Over the span of a couple of decades, Miyazaki imagined numerous fantastic worlds that he turned into movies such as My Neighbor Totoro (1988), Kiki's Delivery Service (1989), Princess Mononoke (1997), Spirited Away (2001), and Howl's Moving Castle (2004). For decades now, American animators from Pixar, Disney, and Dreamworks studios—as well as legions of movie fans worldwide—have recognized Miyazaki as an animation legend, but his visual creativity and art go beyond simple animated entertainment. While the style of Japanese anime has been around since the early 20th century, it was Miyazaki and his Studio Ghibli that elevated this genre from kid's entertainment to the level of fine art in animation and graphic arts.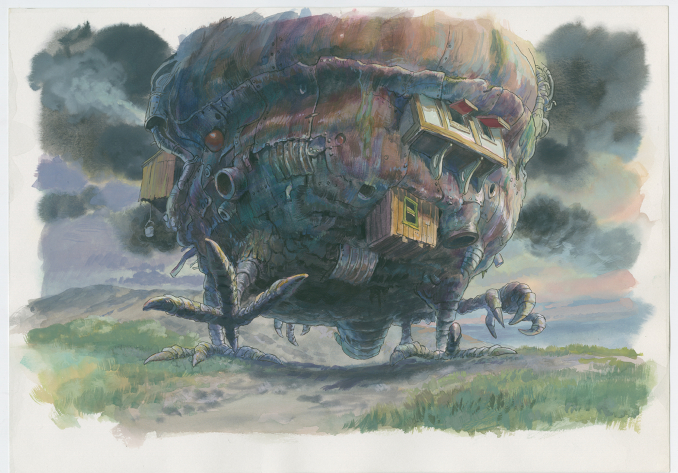 Imageboard, Castle in the Sky (1986), Hayao Miyazaki, © 1986 Studio Ghibli
The exhibition, which is the artist's first North American museum retrospective ever, is organized as a journey through Miyazaki's different worlds—the Tree Tunnel world of little Mei from Totoro, "Creating Characters" (a multi-screen installation of clips from various movies), as well as a "Making of…" gallery that showcases the complex animation process and Miyazaki's original drawings and paintings.
Film Still, Princess Mononoke (1997), Hayao Miyazaki, © 1997 Studio Ghibli – ND
The Hayao Miyazaki exhibition will run at the Academy Museum of Motion Pictures though June 5, 2022.