Food for the Soul: "Rembrandt & His Contemporaries" Exhibition in Amsterdam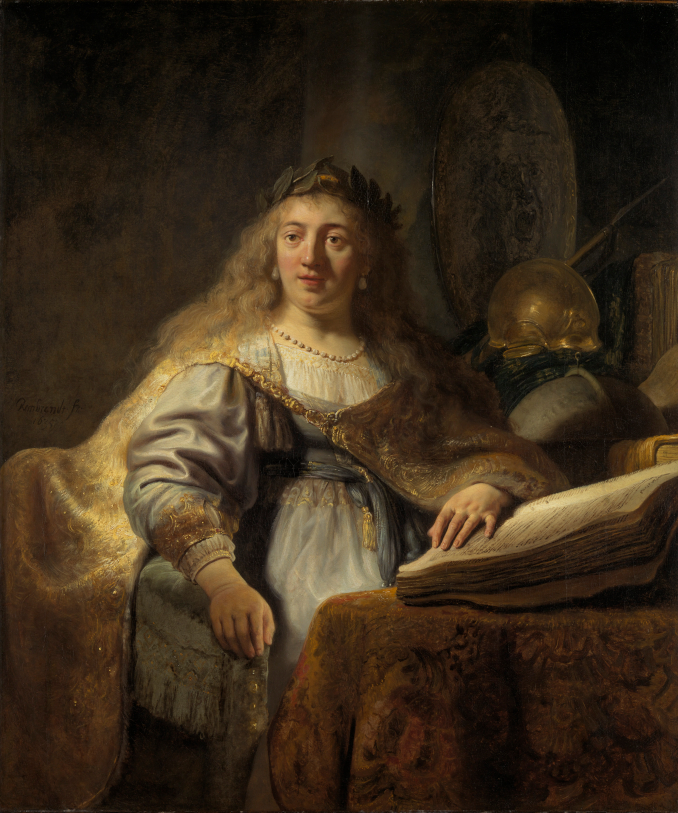 By Nina Heyn — Your Culture Scout
While many art fans might not be able to get tickets to the sold-out Vermeer show at the Rijksmuseum, there is another exhibition of exquisite Dutch Baroque art in Amsterdam that is ongoing at the same time at the nearby museum called Hermitage Amsterdam.
The star of this exhibition is Rembrandt's Minerva in Her Study. Minerva is a goddess of both war and wisdom, but when Rembrandt portrayed his wife Saskia in this role, he chose to show her touching a book—an attribute of rational thought and good judgment—rather than armor. The goddess's helmet sits unworn in a corner. His Minerva is a sumptuously clad woman, surrounded by books and gazing at us directly with a strong, intelligent look. In 1635 when he painted this portrait, the artist was at the height of his artistic powers, he had just married the beautiful woman he adored, and his painting business was growing by leaps and bounds. Minerva was his calling card as a history painter (the most appreciated genre at the time), but it was also a love letter to his new bride. Together with Saskia in a Red Hat (1633, Kassel), this is probably his most charming portrait of his Frisian bride. This is a painting full of power and hope, both of which would later wax and wane in Rembrandt's long life.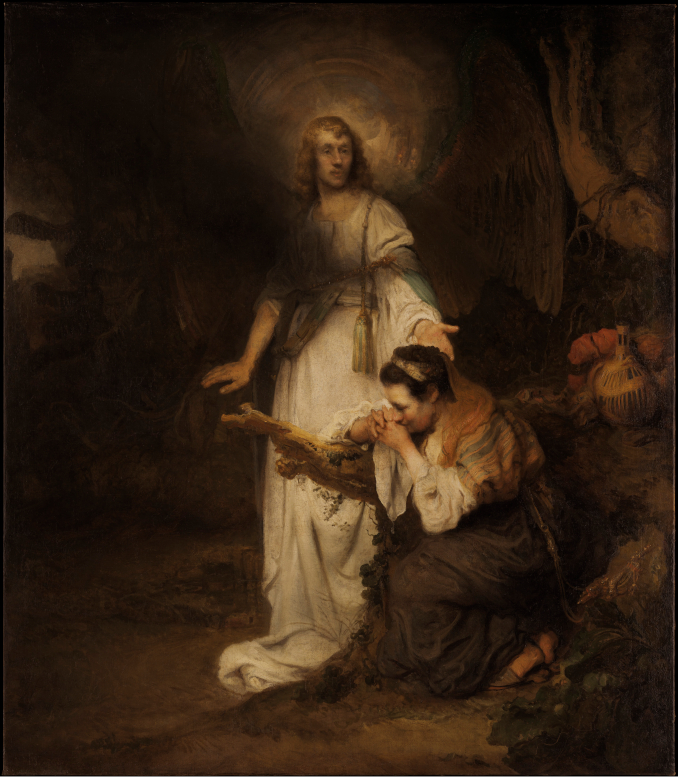 Thomas S. Kaplan is a famed American collector who, as the owner of the largest number of Rembrandt works in private hands, has focused his acquisitions on Dutch Golden Age paintings by Rembrandt and his circle, including the artist's teacher Pieter Lastman and his students or contemporaries like Ferdinand Bol, Carel Fabritius, Gerard Dou, and Jan Steen. Kaplan's collection, which he calls The Leiden Collection (after Rembrandt's birthplace), has no permanent home, so a "visit" in Amsterdam is a rare treat. The particular viewpoint of the exhibition is the presentation of historical and mythological paintings by Rembrandt and his circle. Within this tight focus, some little-known gems of The Leiden Collection make their appearance.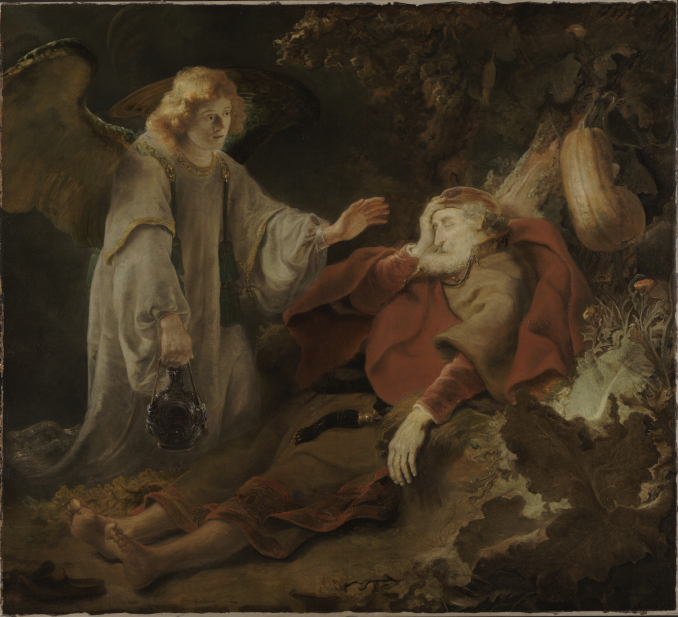 Two especially moving pictures in the exhibition are Hagar and the Angel painted by Carel Fabritius (c. 1645) and Angel Appearing to Elijah by Ferdinand Bol (c. 1642). They are displayed close to each other, and they both present angels (i.e., a personified divine intervention) as a factor that changes human destiny. In the Fabritius picture, the angel appears just in time to console Hagar, despondent about her son who is dying of thirst in the wilderness. It's fascinating to see that Fabritius paints the earth and tree roots with yellow ochre slashes in a style than might have been described as "Impressionist" had he lived 200 years later. Fabritius also picked up a trick from his master of scratching paint with the butt of a brush to create an interesting texture of a basket weave. Had Fabritius lived longer (he perished at age 32 in a warehouse explosion in Delft), perhaps his freewheeling style would have become as unique as Vermeer's.
Bol's angel is also on a mission of mercy—he is bringing water in a flask to a parched patriarch. A golden light emanates from the angel's face and hands, while Elijah is painted with a deathly pallor on his face and bluish veins in his hands. The light under Frabritius brush is as magical as in Vermeer's canvases.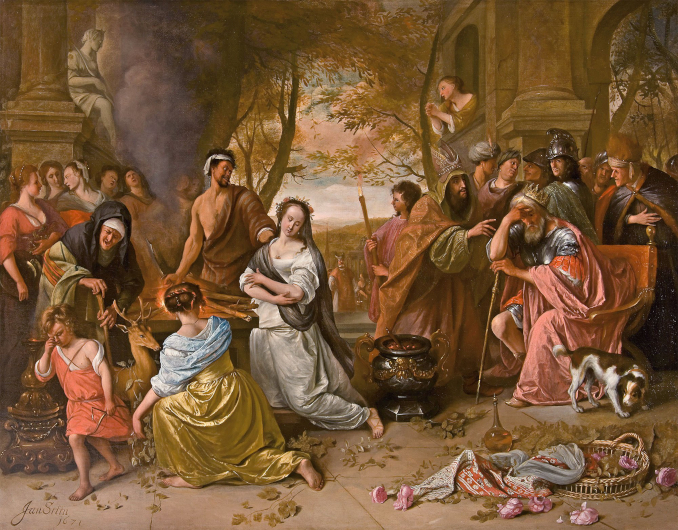 Almost every painting in the exhibition highlights some variation of the historical genre among the Golden Age artists, but let's just take a look at a work by an artist who is much more known for his genre scenes (e.g., quarreling drunkards in a tavern, dancing peasants) than for his history tableaux. Jan Steen is represented in the exhibition by Sacrifice of Iphigenia, a Greek tragedy scene. Steen's mocking, Rabelais-like style imbues the classical theme of the painting, making it a lively scene full of unusual characters. This is an episode from the Trojan War, when the king Agamemnon is being forced by the goddess Diana to sacrifice his daughter. Even though the subject is a tragedy, the dramatis personae display exaggerated expressions: a bloodthirsty executioner (wearing a white band) grimaces theatrically, while an old woman is shooing off a crying cupid and the crestfallen father is hiding his face. Steen based his composition on a stage play, and indeed this looks like a theatrical performance rather than a somber historical picture.
The exhibition titled "Rembrandt & His Contemporaries: History Paintings from The Leiden Collection" runs from February 4 through August 27, 2023 at the Hermitage Museum in Amsterdam.