Food for the Soul: New Movies…Not in Cinemas…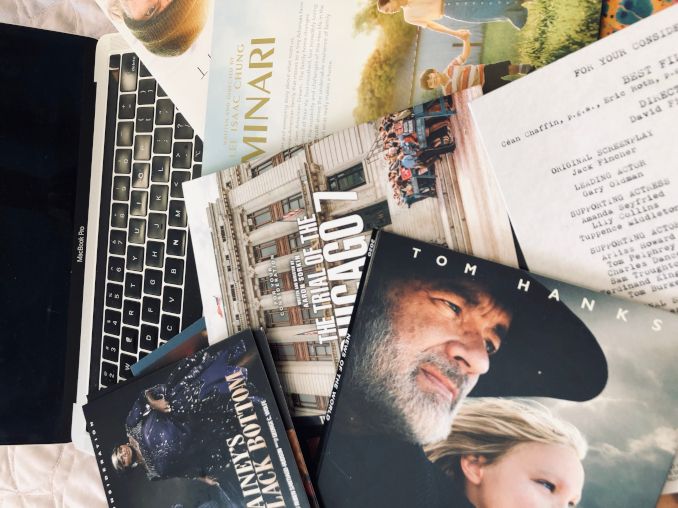 By Nina Heyn – Your Culture Scout
The 2021 Academy Awards have been moved two months later than usual to April 25, extending the entire awards season to eight long months. Movies are eligible for the 2021 Oscars—as well as numerous other awards (some critics' organizations, BAFTAs, Golden Globes, etc.)—if released between January 1, 2020 and the end of February, 2021. Due to the pandemic, however, film activity in 2020 was a disaster, in the form of hampered or canceled productions or hobbled or non-existent cinema releases. Movie theaters all over the U.S. have been either completely shuttered (most ironically in the case of Los Angeles, the world's entertainment capital) or placed on reduced capacity due to social distancing. As a result, there is not only a backlog of new movies being pushed back for release (e.g., the latest Bond movie, No Time to Die, was just delayed to October), but many films are skipping theaters altogether, instead premiering on streaming platforms.
Warner Brothers studio created a huge stir in the industry after announcing last fall that its entire slate of movies (including such A-titles as a remake of Dune, Godzilla vs Kong, and Matrix 4) will be premiering simultaneously in theaters AND on its new streaming platform HBO Max. Warner Brothers' shift to streaming during the pandemic was prompted by several factors, one of them being a relatively lackluster U.S. opening of the intended summer blockbuster, Christopher Nolan's Tenet. While the movie was a success in overseas cinemas that stayed open, in the U.S., where theater closures have prevented normal openings, the movie has not reached its great potential. Other studios have mostly pushed their most important releases to unspecified dates in the summer or later. 2021 is shaping up to be another year of abnormalities—with movies going straight to streaming, film festivals either going virtual (like Berlin) or being moved to a summer date (like Cannes), and studios holding back major releases in hopes of movie theater openings down the road.
While Oscar season movies tend to focus on serious dramas, this year's extended season and the inclusion of streaming services as eligible release platforms have created a smorgasbord of awards contenders. Not only are there now more eligible movies included in the competition, but also more genres of movies are vying for awards. In view of this embarras de richesse, we've selected just a few movies that are technically new and eligible for awards but that may either already be streaming somewhere or perhaps are waiting for wide release when cinemas reopen. The main criterion for inclusion in this list is entertainment—that is, movies that are uplifting, deal with positive human values, or provide enjoyment that may be otherwise hard to find in our currently limited circumstances. So here is a list of some feature films that are likely to be contenders in the awards season.
SOUL
In the new Pixar animation movie Soul, a music teacher Joe (voice of Jamie Foxx) is on the verge of realizing his lifetime dream of playing at a jazz club when he finds himself suddenly transported into a limbo of souls in transition between life and death. Joe's task—to teach a young soul the value of human life—allows him to rediscover those values himself. Directed by Pete Docter, Soul is in the same vein as Docter's 2015 movie Inside Out. While the earlier movie dealt with a raging storm of teenage emotions, this one deals with another intangible: What really happens to a soul that has not yet been born or one that finds itself without a host body? The afterlife and the existence of the soul are hard issues for kids to grapple with, but this movie deals with them in a gentler and more accessible way than some youth therapists do.
NEWS OF THE WORLD
There are two new Tom Hanks movies out right now: the earnest but a bit tedious Greyhound (about a WWII warship protecting a convoy across the Atlantic) and a charming Western, News of the World. The theme of a lonely, broken ex-fighter who is unexpectedly put in charge of an orphaned girl has been successfully shown on-screen twice before in True Grit. In both versions, the protagonist (John Wayne in 1969 and Jeff Bridges in 2010) was a curmudgeon—but News of the World is a Tom Hanks movie. Hanks is always best at showing the heart of his characters, and he does not disappoint in this story of an ex-soldier of the American Civil War who makes his living as a sort of itinerant journalist, bringing the latest news to remote locations in the Midwest. His unexpected task of taking a tween girl from an Indian territory to her relatives is not an easy one—the kid has forgotten her original German (she was abducted into a Kiowa tribe after a raid) and she is wild and scared. It's the job of Captain Kidd to gently tease out of this scared child her innate brightness and lost faith in people.
NOMADLAND
Nomadland is a story of a woman who crisscrosses the bleak Western badlands in her van after losing her factory job in Nevada. Frances McDormand stars as Fern, a modern nomad who explains to people that "she is not exactly home-less, she just happens to be house-less." Directed by rising star Chloé Zhao, this is all at once a road movie, a woman's perspective on homelessness (or just rootlessness), and a commentary on economic instability in the U.S. and the gig economy in general. The movie is a strong contender for major awards, and Zhao just made history by being the first female to be awarded Director of the Year by the Palm Springs Festival.
THE TRIAL OF THE CHICAGO 7
Aaron Sorkin recreates a piece of American social and political history for the younger generations. Sorkin's previous cinematic commentaries include The West Wing show and the film The Social Network. In The Trial of the Chicago 7, he shows how Vietnam-era anti-war protests led to a violent clash during the Democratic National Convention in Chicago that resulted in a famous trial of leaders of student and youth organizations as well as political activists. Sasha Baron Cohen stars as Abbie Hoffman, Eddie Redmayne as Tom Hayden, Frank Langella as Judge Hoffman, Mark Rylance as attorney Kunstler, Yahya Abdul-Mateen II as Bobby Seale (the leader of the Black Panthers), and Michael Keaton as state attorney Ramsey Clark.
MA RAINEY'S BLACK BOTTOM
A dramatic recording session of the blues star Ma Rainey in 1927 Chicago brings to the surface a lot of personal anguish and social anger in the lives of both the uncompromising singer and her band members. This very emotional story is based on the stage play by August Wilson. Viola Davis stars as the titular Ma Rainey, who was a real (if now a bit forgotten) fiery singer of the 1920s and 1930s. The movie also features one of the last performances by Chadwick Boseman, the charismatic star of Black Panther, who passed away last year.
MINARI
If you like foreign-flavor movies, this one might be for you. Set in Arkansas in the 1980s, it's a story of a Korean immigrant family trying to make it in the Ozarks in the face of all the possible struggles—financial problems, being foreigners, kids' precarious health—but above all, the difficulty of keeping the family together when their expectations and hopes are not met.
MANK
ARVE Error: Invalid URL https://youtu.be/aSfX-nrg-lI in url

When Orson Welles asked the screenwriter Herman J. Mankiewicz (played here by Gary Oldman) to write the screenplay for Citizen Kane, "Mank" was a famous and talented writer, but also an alcoholic and eccentric who had strained relationships all over Hollywood. His most contentious one was with the press mogul Howard Hughes, on whose excessive life Mankiewicz based the script. Mank is lensed in black and white to render the flavor of 1930s films. Amanda Seyfried, Lily Collins, and Charles Dance co-star.
THE DIG
On the eve of WWII, the landowner of a place called Sutton Hoo in Suffolk hired an excavator to investigate mounds that were believed to be burial grounds of Viking origin. They turned out to be the greatest archeological find in England, unearthing an Anglo-Saxon burial ship and a treasure trove from the 6th century. The Sutton Hoo treasure is now one of the star displays at the British Museum. The movie stars Carey Mulligan and Ralph Fiennes in this reenactment of the 1939 events that led to the amazing discovery.
MALCOLM AND MARIE
Malcolm (John David Washington) is a young film director whose movie has just successfully opened, placing him on at an onset of Hollywood fame. Marie (Zendaya) is his girlfriend who has successfully weaned herself from drug addiction. When they come home after the premiere he is still reeling from the adrenaline of the event and she is still sulking from his omission to thank her. They are in for the long night of recriminations, mutual accusations and a seesaw of emotions from violent to tender. It's about time there was a refresh on an idea of a couple's cathartic reckoning over a long night of accusations and confessions. The last time it was successfully done in movie is probably in the 1966 movie Who Is Afraid of Virginia Woolf. This one is a more intellectual and sharper take on this premise.