Food for the Soul: Women Alone – Vermeer at the Rijksmuseum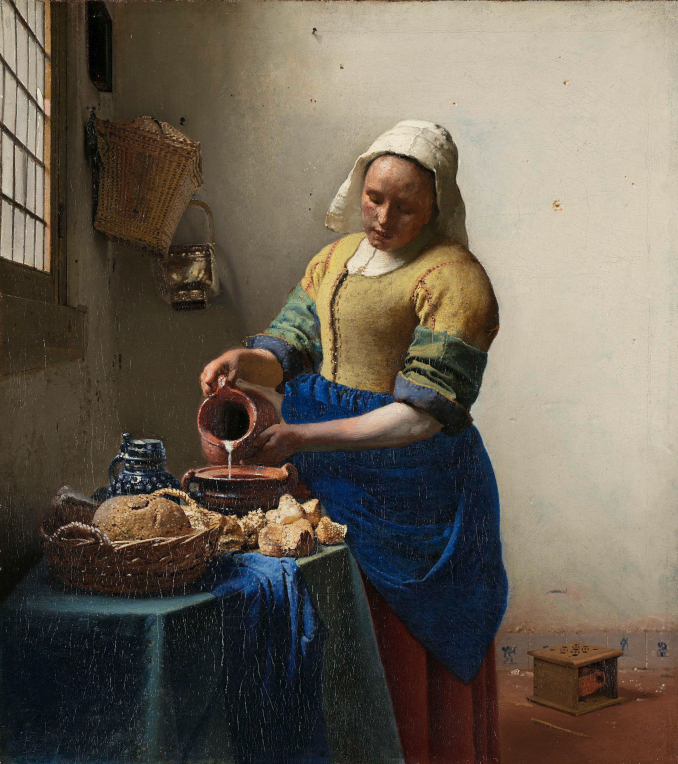 By Nina Heyn — Your Culture Scout
The sold-out, long-touted, once-in-a-lifetime Vermeer exhibition at the Rijksmuseum in Amsterdam is in full swing—crowds of lucky ticket-holders are thronging through a few small rooms. But perhaps this is the right space to exhibit these intimate, delicate pictures that hung forgotten for 200 years until they became the most sought-after works in art history. Out of about 35 Vermeer paintings in existence (and probably no more than 50 that he ever painted), the Rijks is proudly displaying 28 of them, including rarely seen religious works and paintings from collections in Dublin, Germany, and the UK.
Let's start with the Rijks's pride and joy, The Milkmaid, one of the three paintings from the museum's own collection and one of six that are in the Netherlands. There are books written just about this painting. Last year, the Rijks published a study on extensive technological analysis of this picture through Macro-XRF and RIS scanning technologies that the museum developed during its famed restoration of The Night Watch. The review of the underpaint revealed large swaths of dark paint that Vermeer used to outline the basic elements of the picture (to make them stand out against the background) and an overpaint of the fire basket to make the wall behind the maid free of any props. We are looking at a woman in an almost empty space, head bowed in concentration while she is pouring a thin stream of milk. The blue of her apron and the tablecloth and the yellow of her leather bodice are the main splashes of color—the rest is a diagonal interplay of light and darkness around this figure. Genre paintings of maids at work (cleaning pots, plucking chickens, handling vegetables) abound in the Dutch Baroque iconography, but none of them offer such a contemplative and sparse image of a woman. The Milkmaid is a painting that earned Vermeer a title of a painter of silence — we can just imagine the slow movement of milk dripping and the quiet of a pantry.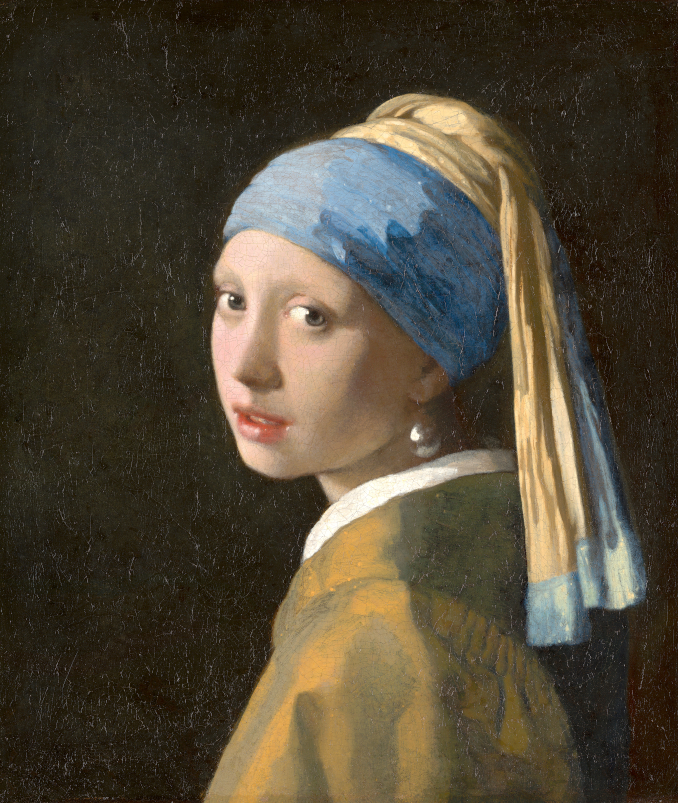 The most famous of all Vermeers is the one that is hard to view unless you can travel to The Hague, so this is a treat to encounter The Girl with a Pearl Earring in Amsterdam. As I have written before, the little irony is that this iconic portrait of a young woman with an enormous pearl is neither a portrait, nor is the pearl a real pearl. The painting is a tronie, a study of a facial expression and exotic costume that was popular at the time (Rembrandt painted a lot of them). Some theorize that the model could have been one of Vermeer's daughters. When he painted this canvas (estimated between 1664-1667), he would have had at least four daughters, his eldest being between 10 and 13 years old. Though this is not a portrait in the formal sense of the word, that does not take away from the intensity and beauty of the image, with the girl turning toward us with her direct gaze. There is a reason why this artwork has become an icon in our image-hungry era.
Early Vermeer paintings feature groups of people (women being courted or instructed in music, mistresses interacting with their maids). Later, he would focus on what interested him most, showing just one individual engaged in some thought or solitary activity. He explored people's inner life—not an easy thing to express in a novel, much less to render on a piece of canvas.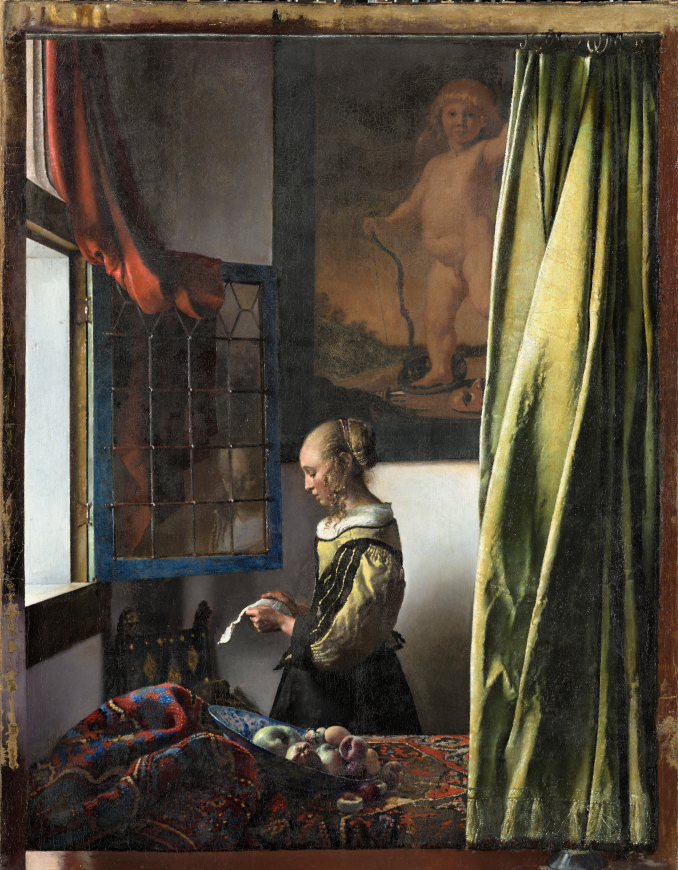 The picture entitled Girl Reading a Letter at an Open Window from Dresden's collection is particularly interesting because, for a long time, old varnish and grime covered the large picture of a cupid on the back wall. I still have art books that show a blank wall behind the woman and the window. It was only a recent restoration that revealed the huge painting of a cupid, which of course cues the viewer that the woman might be reading a love letter. What was formerly a brownish-grey curtain in the front also underwent a cleaning, and now the picture is framed with a gorgeous lime-green fabric. This curtain serves an important visual function that is best revealed when we compare this picture to Woman in Blue Reading a Letter.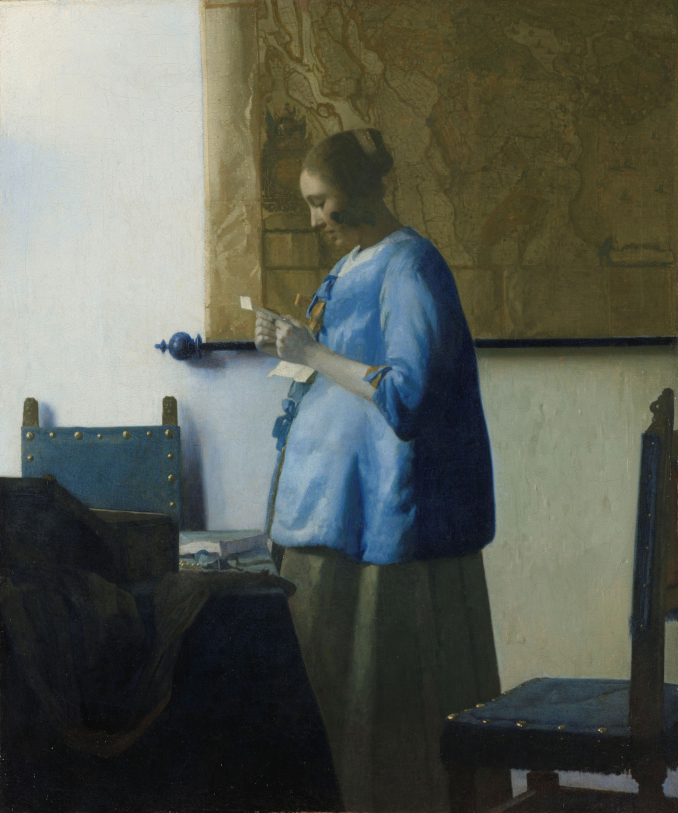 If this were a movie, the difference between the first and second images would be the zoom. In Girl Reading a Letter at an Open Window, we see the woman reading a letter, but we also see a big part of the room. In fact, the bright theatrical curtain in the front creates a stage on which the woman is placed. We also can see a window with the woman's reflection in it—an often-used Vermeer device to bring in the source of light and add an interesting color element on the left of his picture. The large picture of a cupid is another pictorial device used by Vermeer and other artists (Gerard ter Borch the Younger, Gabriël Metsu), who placed paintings on walls to give a clue to the subject painted. In the Woman in Blue painting, all of these elements disappear as if the camera had zoomed in just on the woman. No more window, and no curtain either. There is just a corner of a map and two chairs with a blue tint that matches the dress to make it a uniform color composition. We are looking at a close-up, and we can become as absorbed in what we see as the woman is engrossed in reading her letter. Vermeer painted Woman in Blue about five years after Open Window. Not only is there the compositional change toward a more intimate and focused scene, but there is also a change in his style of painting—from the more detailed stippling of paint dots to wider and freer swaths of color. It's a thrill to be able to see these pictures in the same space thanks to this unique exhibition. After all, Vermeer himself would have successively sold his works, so he probably never would have seen these two pictures next to each other.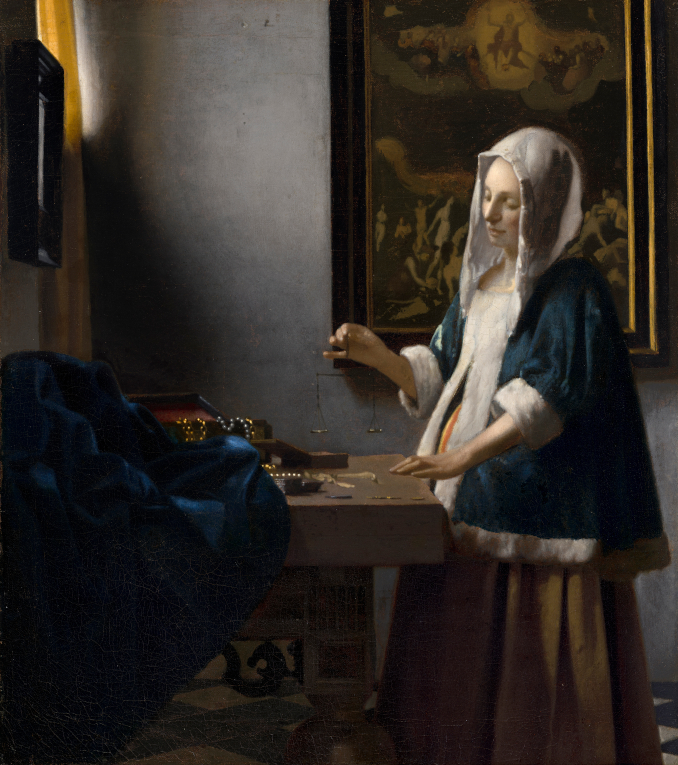 The Rijksmuseum exhibition runs from February 4 through June 4. If there is any complaint to be made at all about this wonderful and monumental curatorial effort, it is that the catalog does not do justice to the exhibition. Not only is the English-language version not consistently available (despite the majority of visitors not being Dutch), but it is printed on some newspaper-quality, yellowish paper that smears the images into blobs. The print quality is a far cry from similar publications produced at major loan exhibitions in France, the U.S., or Great Britain. For a catalog that assembles an exceptional amount of old master's works in a historically important exhibition, this is a bit underwhelming. Nevertheless, the exhibition itself is to die for. Perhaps they will extend it…