Food for the Soul: Awards Season – Documentaries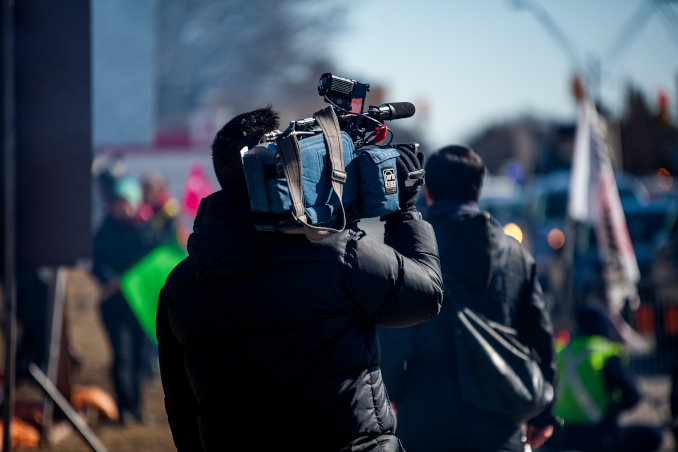 Photo credit: jovaughn-stephens/Unsplash photo
By Nina Heyn – Your Culture Scout
It's a sign of the times that documentaries now seem to be more interesting than features. While some feature movies this year focus on exceptional situations (such as the last man on Earth's travels to a polar station, or a moment in history from the anti-war protests in the '60s, or a couple stuck in a time loop), the recent crop of documentaries tackles current newspaper headlines or dives deep into social issues previously unknown if not downright hidden. This year's Oscar contenders for Best Documentary include a record number of 238 documentaries from all over the world, surpassing last year's 170 entrants. Beyond the truly outstanding and already popular recent ones like My Octopus Teacher and The Social Dilemma, there is a long list of great forays into non-fiction on screen that are frontrunners in this awards season.
76 DAYS
This is where it all started—the city of Wuhan was the first place on the planet to experience this "novel virus" attacking an unsuspecting population. Some documentaries are made with a polished quality of researched, sometimes even recreated, footage and well-produced interviews. 76 Days, a news-reportage-style documentary about the beginning of the epidemic, instead has the raw, gripping quality of events that are being filmed on the go amid the frenzy of both medics and patients. The filmmakers were able to follow events during the first couple of months of the epidemic until they lost access to filming.
EVERYBODY FLIES
ARVE Error: Invalid URL https://youtu.be/5DQ_NyD4Bbo in url

Even if we are not flying much right now, eventually we all will, and this documentary will be more relevant than ever. How clean is the air in your airplane, and where does it come from? Nobody knows, except some aviation industry insiders. A former British Airways captain turned filmmaker spent 18 years doing a huge amount of research and interviews with pilots and flight attendants as well as aviation mechanics to understand the air quality inside jets. The conclusion is not encouraging because most types of jets, in certain flying conditions, can absorb air mixed with engine oils—a toxic cocktail that can poison passengers and render flight personnel disabled. Since, as the title states, "everybody flies," this is a must-view for anyone interested in yet another potential health issue.
BOYS STATE
ARVE Error: Invalid URL https://youtu.be/E1Kh_T5ZBIM in url

A summer camp run by the American Legion is designed to teach Texas boys about the political process. A thousand 17-year-olds learn in action how to canvas for votes, lobby, present a political platform, and fight an opponent. This juvenile-version microcosm of American politics feels like a cross between Lord of the Flies and a model UN debate, but this is where it starts for a lot of future power brokers and where lifelong convictions about politics form.
THE ATOM: A LOVE AFFAIR
ARVE Error: Invalid URL https://youtu.be/lyl5hKpmwi0 in url

This story about how we fell in and then out of love with nuclear energy as a source of electric power ranges from the optimistic praise in 1950s newsreels to the growing disenchantment in the wake of the Three Mile Island and Chernobyl accidents. The film also takes an interesting look at the difference between the German anti-nuclear movement and the French embrace of nuclear power plants. Since the world is turning away from fossil fuels, the issue of nuclear power and its benefits and threats is still ongoing.
CLIMBING BLIND
This is the ultimate outdoor adventure story. Jesse Dufton is the first blind person to lead a climb on a sheer rock in Scotland called Old Man of Hoy. Climbing this rock with full command of all senses and abilities looks scary enough, but much more so when the person leading the climb has only his sense of touch at his disposal. What's more, he is leading his wife in the climb, so this becomes a tale of an unusually strong and tender marital bond. Despite Jesse's life obstacles, this is an uplifting tale of spirit and ability.
THE BOOKSELLERS
ARVE Error: Invalid URL
https://youtu.be/ymcRRt3Ix04 in url

A good documentary for anyone who loves books, this is the story of the famous and largely disappearing world of rare book dealers in New York. Antique and unique books are still being traded, but mostly online or at fairs; actual shops with their endless bookshelves have been closing down for years. The personages of sellers and buyers and the stories of their collections are fascinating.
CRIP CAMP
Thanks to the Americans with Disabilities Act (ADA), the U.S. has some of the world's most advanced legislation protecting people with handicaps. This act, passed in 1990, had its roots in earlier advocacy efforts during the civil rights movement, and some of this movement stemmed from an unusual meeting place in the Catskill Mountains near New York—a summer camp for youngsters with disabilities that ran from the 1950s until the 1970s. Crip Camp tells the inspiring story of kids who for the first time met with unconditional acceptance from their peers—the story of people struggling to be recognized as citizens with rights to societal inclusion. This is one of the documentaries on the fast track toward industry awards.
THE TRUFFLE HUNTERS
ARVE Error: Invalid URL https://youtu.be/KFYhrc0AnVw in url

This is a dive into the small, disappearing world of older men in northern Italy who walk the Piedmont forests with their dogs in search of a precious culinary delicacy. There are intrigues of truffle dealers, conflicts between landowners and poachers, tragedies of dogs attacked, and small triumphs of discovery of these ugly but fragrant mushrooms. Even if most of us rarely dine on truffles, the movie is a charming trip into a gentler world of aging foragers and their canine best friends.
COLLECTIVE
A team of journalists in Bucharest investigates the reason why 37 burn patients died in city hospitals days or weeks after they were brought in following a devastating dance club fire in 2015. The tragedy of that fire brought down a government, but this was just the beginning of a wider health fraud scandal. The group of low-key but determined journalists used whistleblower sources, online searches, hidden filming, and open interviews with politicians, doctors, and victims to uncover one human vice after another—corruption in manufacturing disinfectants, inhumane conditions in maggot-infested hospital beds, needless deaths of patients denied medical transfers abroad, government cover-ups—a very long list of individual and state sins against the helpless population. Although the documentary is filmed in a calm, dry, factual style, the magnitude of the investigation and the scandal it uncovers could be compared to Watergate. Unlike that American event, however, the Romanian medical scandal does not seem to offer any hopeful resolution. The movie has already garnered dozens of wins and nominations worldwide for best documentary of the year.